The Souljazz Orchestra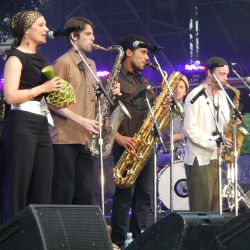 David Pecaut Square - Toronto, Ontario
2014-06-12


Michael Panontin

As a proper urban space, David Pecaut Square in Toronto is more makeshift than planned. But surrounded by converted century-old warehouses and encroaching skyscrapers, it is as fine a backdrop as any for the annual ten-day arts festival in Toronto known as Luminato. On this night the program had Ottawa's afro-jazz sextet the Souljazz Orchestra warming things up for Sidestepper and their electro-Colombian mezcla.

The Souljazz gang is still relatively unknown in these parts, so it was hardly a surprise to see them take the stage to a crowd that was, to put it politely, less than capacity. Still, after kicking things off with a fittingly exotic 'Kingdom Come' and then following up with their excellent interpretation of Andy Bey's little-known interplanetary piece 'Celestial Blues' - both from their recent Inner Fire disc - things started to heat up a bit. The band have certainly come a long way since their early days as straight-up interpreters of classic afrobeat, having long since steered their jazz down more dance-friendly funk and latin roads. This night would prove to be no exception as first baritone saxophonist Ray Murray and later keyboardist Pierre Chretien coaxed us with lines like "sittin' down ain't really the vibe, you know".

For my, uh, money - this was after all a free concert - a more sober showcase of their fine East African and Nigerian influences would have been perfect. But no matter. As the crowd filled up, they wasted little time finding their groove, digging up the funky 'People People' from 2008's Manifesto and then later slipping in bouncy versions of 'Freedom No Go Die' and 'Mista President' from the year before. As is often the case on their studio recordings, their brass troika of alto, soprano and baritone saxes was as crisp and solid as ever, while the vocals - in alternating West African pidgin, early seventies ghetto and a bit of Jamaican lilt for good measure - came off at times lumbering and intrusive.

But after ushering in the World Cup (mere hours after Brazil's opening-day win) with the crowd-pleasing, samba-flecked 'Cartao Postal' to a by-then jam-packed square, there really wasn't much to complain about this evening.
The Souljazz Orchestra
Suggestions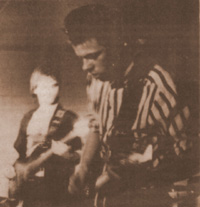 Tulpa
University of Windsor - Subway Pub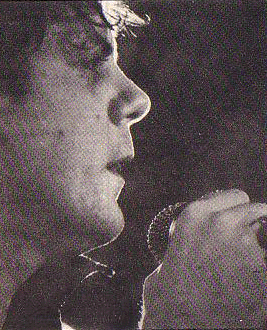 Teenage Head
University of Windsor - SAC's Pub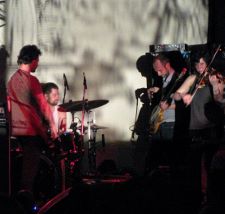 Godspeed You! Black Emperor
Lee's Palace - Toronto, Ontario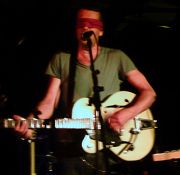 The Hidden Cameras
The Magic Stick - Detroit, Michigan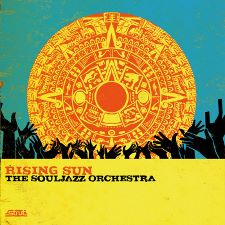 The Souljazz Orchestra
Rising Sun
Strut