Godspeed You! Black Emperor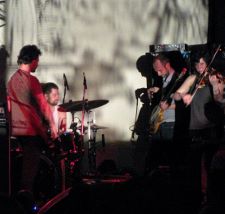 Lee's Palace - Toronto, Ontario
2011-04-24


Michael Panontin

The almost-mythical cloud that has hung over Godspeed You! Black Emperor since their near-nuclear explosion in indieland back in 1998 with f#a#oo seemed to just get heavier since the group went on indefinite hiatus back in 2003. Those seven years or so were anything but idle. Families were started, businesses established and studios built. And though we have been well-served by the sundry spin-offs, from the equally sprawling Silver Mt. Zion projects to lesser-known acts like Hrsta, Black Ox Orkestar and 1-Speed Bike, this is surely a case of the whole being more than the sum of its parts.

In the flesh, however, the godlike status seems a bit silly. Rather than play once to several thousand people at 50 bucks a pop - and this they could do quite handily in Toronto - they stuck to their ideals, playing four two-hour-plus shows in just three days. Band members mingled in the crowd just minutes before the show's start and manned the merch table after its finish.

The Sunday night gig started off as did most of this tour with the foreboding 'Hope Drone', but unlike in the past, where members entered the stage slowly one by one, the eight just walked on more or less at the same time. Being crowded onto that tiny space seemed a little incongruous for a band of Godspeed's stature - bassist Thierry Amar often had to sit on the floor so that the already half-obscured film visuals could be seen.

From there GYBE fired off pieces from three of their four records, and with the exception of the wistful opening of 'Monheim', did so with a typically fiery intensity. 'Albanian' was rendered abrasive and tough, with the band's sawing space-rock taking us back to Amon Duul II, circa 1974. 'Gathering Storm' and 'Chart #3/World Police', from Lift Your Skinny Fists Like Antennas to Heaven, were exhilerating, the former with crushing power chords a la Robert Fripp and the latter utterly sublime with film images of first a solitary flame loop and then blazing industrial blight. (Extra kudos go to the projectionist, who toiled for two hours feeding through film on four rickety projectors - the normally bucolic 'The Cowboy' was supremely uplifting with images of plants, a cat's eyes and a derelict farmhouse juxtaposed on the screen. )

Godspeed You! Black Emperor topped things off with a near-cacophonous version of 'The Sad Mafioso'. The well-known intro to Danny Boyle's film 28 Days Later was majestically reworked from its normally weepy cello/violin into a thundering space-rock anthem. Awesome!
Godspeed You! Black Emperor
Suggestions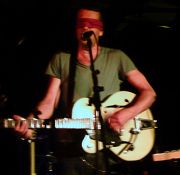 The Hidden Cameras
The Magic Stick - Detroit, Michigan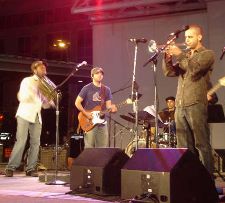 Afrodizz
Dundas Square - Toronto, On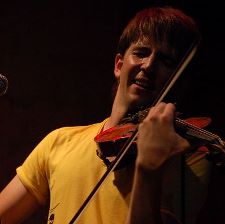 Final Fantasy
Tonic - New York City, NY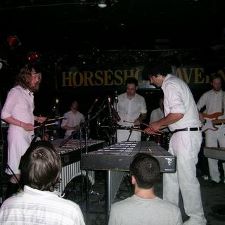 The Hylozoists
The Horseshoe - Toronto, On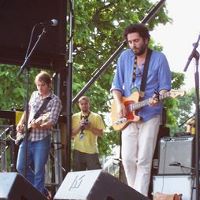 Destroyer
Pitchfork Music Festival - Chicago, Illinois