The Hidden Cameras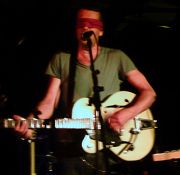 The Magic Stick - Detroit, Michigan
2006-07-21


Benjamin Bordoff

In 2003, I had the pleasure of catching Joel Gibb's crazed vision of gay folk church rock at the Bloor Street United Church in Toronto. The schtick appeared to be that of one big homoerotic revival. An ensemble of nearly 50 musicians (including a choir, organist, horn section, string section and sundry other musicians, including Owen Pallet) played on the altar of said church to a raucous crowd of "believers", dancing merrily in the aisles to such stirring hymns as 'Golden Streams' and 'I Want Another Enema'. I mean, just the image of people dancing in the pews to such tunes was immensely entertaining, outrageous and boldly original in its concept and execution.

So how the hell are you going to translate this to a smoky upstairs live venue/pool hall known as the Magic Stick in the hard rock/garage loving "D"? I had to find out for myself. I can't say I was disappointed. I appreciate that the logistics of transporting 50 people on tour is, well, next to impossible. Nevertheless, The Hidden Cameras, glockenspiel in tow, managed to entertain a small but enthusiastic crowd. Song titles were shouted out repeatedly by zealous members of the converted faithful.

The Hidden Cameras' trademark theatrics did not falter, however. As appears to be typical in their shows, gay culture iconography (coloured handkerchiefs in back pockets, for instance) is evident. The message, if at times shocking to some, comes across as an exploration of sexual politics in a damn funny show. The set included renditions of 'Steal All You Can Motherfuckers', 'Heavy Flow of Evil', 'He Is The Boss Of Me', 'Doot Plot', 'Fear Is On', 'Music Is My Boyfriend' and 'A Miracle'.

Part of the charm of this band revolves around the moment when one realises that the jaunty, toe tapping, sixties influenced, Belle and Sebastian-like melodies are the foundation for lyrics that courageously push the limits. You dig tapping your toes to it. You listen more carefully and you realise that some dude has been singing about giving golden showers. Awesome.

The Hidden Cameras are to be commended for their bold melange of highly accessible pop music, comedic performance antics and deftly veiled sermons of tolerance and acceptance. And they can still do it brilliantly on a small stage with eight musicians.


The Hidden Cameras
Suggestions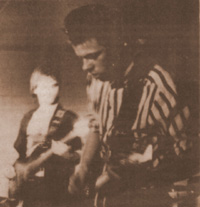 Tulpa
University of Windsor - Subway Pub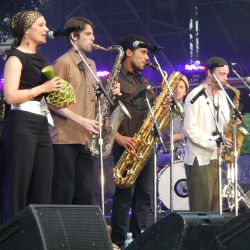 The Souljazz Orchestra
David Pecaut Square - Toronto, Ontario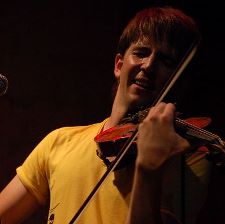 Final Fantasy
Tonic - New York City, NY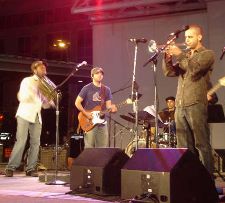 Afrodizz
Dundas Square - Toronto, On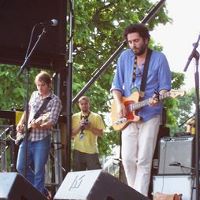 Destroyer
Pitchfork Music Festival - Chicago, Illinois