The Haunted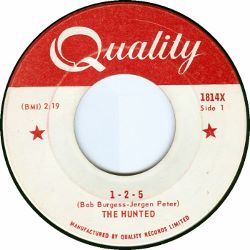 1-2-5 / Eight O'Clock in the Morning - 7"
Quality - 1966


Michael Panontin

As Haunted guitarist Jurgen Peter tells it, the Beatles-era Montreal music scene in the mid-1960s was not much different from the rest of Canada at the time, rife with garage bands of varying talent, yet constricted by a sycophantic, almost colonial music biz. "In Canada, in the early '60s, there was no such thing as a commercial music industry. The deejays played only American records and it was common knowledge that they lived off 'payola' from the record companies. When we, the Haunted, started to play as a band in the Montreal area, there was no way to get a recording contract, no one to play your records, no booking agency to book us, no large shows and paying gigs to play at, no music magazine or anything like it to promote a local band."

Alas, in the midst of so many barricades to success, the crafty Peter formed a bi-weekly music paper (Music Trend) and a booking agency (Groups And Sound Service, aka GASS), plying his fledgling chops at various halls and skating rinks, and paying local deejays a percentage of the gate to MC the shows, with the expectation that they would be plugged on-air to mutual benefit. After taking first prize in a coveted Quality Records-sponsored Battle of the Bands competition at the Montreal Forum - beating out the likes of the Staccatos, David Clayton-Thomas and Andy Kim - Peter and fellow guitarist Al Birmingham, along with singer Bob Burgess, bassist Mason Shea and Dave Wynne on drums were promptly ushered into the studio by Quality, giving birth to Canada's most famous garage seven-inch, the raw and infectious '1-2-5'.

With its straight-up farfisa/harmonica girding Burgess' charmingly amateurish vocal, '1-2-5' is about as garage as you can get, and the harder-hitting floor-filler 'Eight O'Clock in the Morning' rounds things off nicely on the flip, making this one fine and auspicious debut. As it happened, after heavy touring on the Ontario/Quebec club circuit, Burgess ultimately left the band to be replaced by Johnny Monk. A re-recorded '1-2-5', with Burgess' rough-hewn amateurism replaced by Monk's more textured pipes, would find its way onto the band's lone hyper-rare LP the following year, but it is this original that is the garageland classic hands down.


The Haunted
Suggestions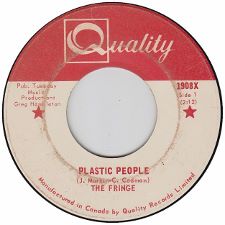 The Fringe
Plastic People / Nancy Brown - 7"
Quality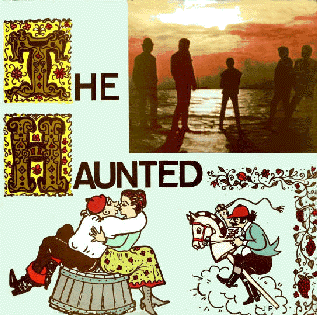 The Haunted
The Haunted
Trans-World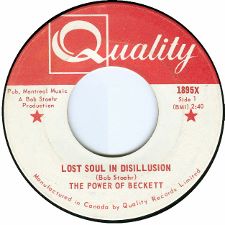 The Power of Beckett
Lost Soul in Disillusion / Back to Me - 7"
Quality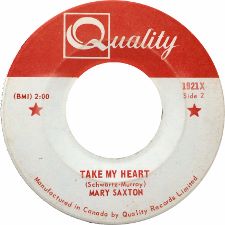 Mary Saxton
Sad Eyes / Take My Heart - 7"
Quality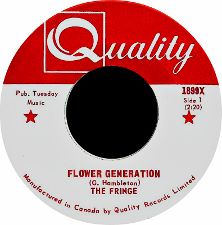 The Fringe
Flower Generation / Token for My Mind - 7"
Quality