The Guess Who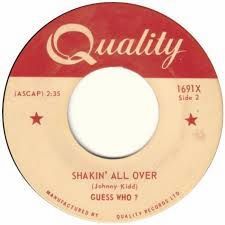 Till We Kissed / Shakin' All Over - 7"
Quality - 1965


Michael Panontin

Though it was a number one smash for Johnny Kidd and the Pirates in England in 1960, 'Shakin' All Over' was really not well known outside Europe until a bunch of lads from the Canadian prairies decided to record their own version. Chad Allan, Bob Ashley, Randy Bachman, Jim Kale and Garry Peterson had issued a few singles in the early sixties as Chad Allan and the Reflections, starting with the early crooner 'Tribute to Buddy Holly' in 1962. (A few years later, the Winnipeg natives would be forced to change their name to Chad Allan and the Expressions after a U.S. group called the Reflections scored big with their single 'Just like Romeo and Juliet'.)

It was actually through a friend of Allan's that the boys discovered Johnny Kidd's epochal rocker. "We were getting import albums from England all the time through a very good friend of mine, Wayne Russell," Allan would later tell Bill Hillman on his tribute page. "Really what happened is that I would go over to Wayne's place and he would play me the latest records that he sent away for in England. He had some amazing stuff that had never reached Canada, especially Winnipeg, and he's playing me all these tunes. One of the tunes was 'Shakin' All Over'."

The band then set out to learn the song from a reel-to-reel tape recording made from Russell's copy and then incorporated it into their live show. "We decided to do 'Shakin' All Over' on stage," Allan recalls. "Later for the recording, I added an acoustic guitar. We also added the click click click piano and we came up with a much different arrangement."

By early 1965, with 'Shakin' All Over' recorded and ready to be pressed up, Quality Records opted for a gimmicky strategy that had sold tons of records for the You Know Who Group the previous year. "Actually, the way we got the name Guess Who was through a radio contest," Allan explained. "We were the Expressions at the time, and they wouldn't tell anyone who we were and they'd say, ''Shakin' All Over'...guess who this band is?' Listeners would phone in and they would win prizes or whatever if they guessed our name." The name of course stuck, but more importantly 'Shakin' All Over' shot to the number one slot up here in Canada, as well as chalking up healthy top-forty positions south of the border and in faraway Australia.

Somehow, though, with all that wind in their sails, the guys - now known simply as the Guess Who? - must have tacked instead of jibed. Not long after, Ashley and Allan would quit the band altogether, to be replaced of course by an inexperienced but breathtakingly handsome keyboardist named Burton Cummings. That new group, with the question mark shorn from their name, released plenty of records throughout 1966, '67 and '68, most of which met with little more than indifference on both sides of the Atlantic. It was really not until 1969 that the proverbial happy ending started to unfold for the band. In January of that year, the Guess Who released 'These Eyes', notching the first of many top-ten records south of the border, a nearly unbroken string of hits that included a pair of U.S. number ones ('American Woman', 'No Sugar Tonight') and that stretched all the way to 1974's 'Clap for the Wolfman' (#6 U.S.).
Suggestions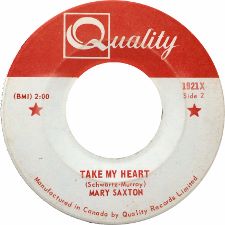 Mary Saxton
Sad Eyes / Take My Heart - 7"
Quality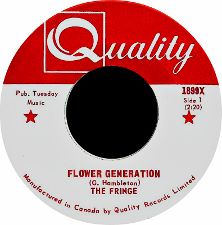 The Fringe
Flower Generation / Token for My Mind - 7"
Quality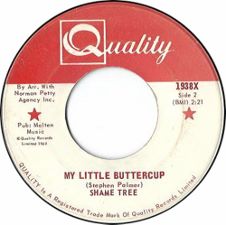 Shame Tree
Junior Saw It Happen b/w My Little Buttercup - 7"
Quality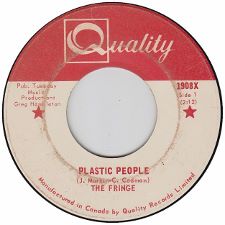 The Fringe
Plastic People / Nancy Brown - 7"
Quality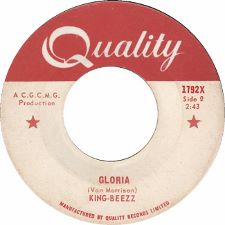 King-Beezz
She Belongs to Me / Gloria - 7"
Quality