King-Beezz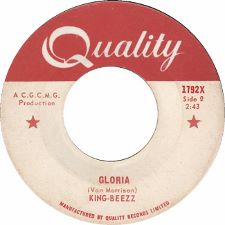 She Belongs to Me / Gloria - 7"
Quality - 1965


Michael Panontin

Northern Alberta in the mid-sixties is not the first place that comes to mind as a hotbed of garage rock. But it was there in Edmonton, a city that registered just shy of 360,000 souls in its 1964 census, that Scottish emigres Ron McLachlan and Carl Peterson formed the King-Beezz, taking their name from a Slim Harpo song on the Rolling Stones' first album.

The pair took the city by storm right from the get-go. As luck would have it, they worked as dentists in the same building that housed popular radio station CJCA and somehow managed to get their group - which actually still didn't exist - plugged by deejay Hal Weaver on his radio show. When a bona fide fan club emerged a few weeks later, they started fleshing out a real band to go along with all the hype, eventually settling on a line-up of McLachlan on drums, Peterson on the vocals, fellow Scotsman Alan Cramsie and a 16-year-old named Bob Richardson to play guitars, and Ray Carson to pluck the bass.

Though the King-Beezz were longer on attitude - and hair it seems - than on talent, by the summer of 1965, they had managed to put much of Edmonton, especially the all-important teen set, in their thrall. "The King-Beezz were a rag-tag, raw and rough group back then," recalled their roadie Mike Grant. "They were Edmonton's answer to the Stones or the Who and they played blues-rock with the kind of emotion and enthusiasm that overshadowed their musical roughness." Local deejay Russ Campbell put it more succinctly, "Either you thought they were cool, or a bunch of freaks!"

By September, the lads were ready to hit the studio. They issued their own rough-hewn version of Them's 'Gloria' on the obscure Pace imprint in a miniscule run of just 100 copies. Luckily, one of those copies was shipped off to Quality Records' main office and head honcho George Struth agreed to repress it with the band's laconic version of Dylan's 'She Belongs to Me' on the top-side. That disc was rereleased in November, but sank like a boulder...that is, until deejays discovered 'Gloria' over on the flip-side and began spinning it. By Christmas, the song was starting to chart nationally and ultimately shifted an unfathomable 15,000 copies.

With a national hit on their hands, the King-Beezz hit the road, logging some 5,000 miles from western B.C. to Toronto's happening Yorkville and all points in between. Alex Taylor, in Ugly Things, writes, "The bookings and flow of money was so constant that in 1966 they were all put on weekly salary. [Their manager Chuck] Camroux remembers getting a phone call in the middle of the night from the guys, who were just hitting the city limit. They wanted to swing by and drop off their take from a mini-tour. What they delivered was a big suitcase crammed with $1 and $2 bills!"

In all, the boys released four singles between 1965 and 1967, including an equally prickly rendering of the Who's 'I Can't Explain' in May of 1966. They even made their way down to Minneapolis' famed Soma studios to lay down tracks for a shelved LP, as well as score a lucrative three-month gig at Montreal's Expo 67. Today, however, outside the heads of a few aging Albertans, the King-Beezz are mostly a forgotten concern and have dutifully taken their place somewhere near the bottom of history's rubbish bin.
King-Beezz
Suggestions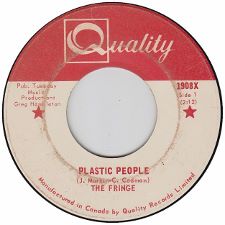 The Fringe
Plastic People / Nancy Brown - 7"
Quality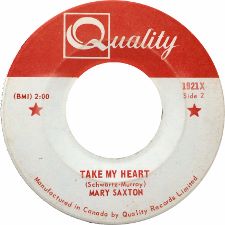 Mary Saxton
Sad Eyes / Take My Heart - 7"
Quality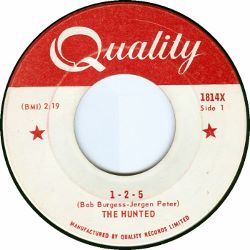 The Haunted
1-2-5 / Eight O'Clock in the Morning - 7"
Quality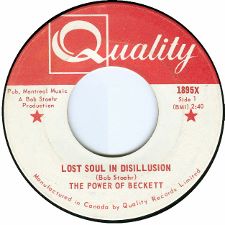 The Power of Beckett
Lost Soul in Disillusion / Back to Me - 7"
Quality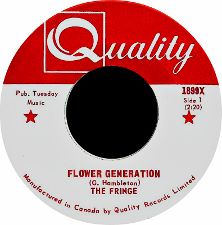 The Fringe
Flower Generation / Token for My Mind - 7"
Quality