David Clayton Thomas and the Shays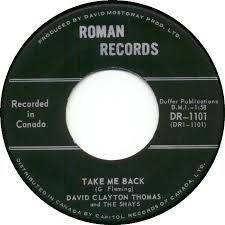 Take Me Back / Send Her Home - 7"
Roman - 1965


Michael Panontin

David Clayton-Thomas spent the better part of his childhood either on the receiving end of a physically abusive father or mired in Ontario's rough-and-tumble penal system. So when the 20-year-old Torontonian was finally set free, he wanted nothing more than to dive headfirst into the music business. Though responsibility beckoned, his young wife and child hardly stood a chance next to the intoxicating elixir of rock'n'roll distilling up and down Yonge Street. In his autobiography, Blood, Sweat and Tears, he recalls how he had been "locked up for most of my teenage years and the lifestyle of a rock musician was incredibly seductive. [My wife] Nancy couldn't possibly compete with all that sex, drugs and rock and roll."

But it was in 1964, just a couple of years after he had walked out of the Millbrook Correctional Centre, that he got his first real break. While sitting in with the locally famous Ronnie Hawkins, Clayton-Thomas met up with the talented guitarist who would help him form his first real band. "I was singing with Ronnie Hawkins and the Hawks, the hottest band in town, and loving every minute of it," he writes. "One afternoon I met a young left-handed guitar player by the name of Fred Keeler. He came in with a bass player named Scott Richards, who played with Fred in a little r'n'b garage band called the Shays. They had a keyboard player with his own B-3 and a drummer with a wicked foot pedal."

As David Clayton Thomas and the Shays, the five unleashed a string of forty-fives, many of which scored locally on powerhouse CHUM-AM. The best of the bunch was definitely the excelllent 'Take Me Back', a scorching slab of r'n'b-laced rock and roll that perfectly captured what the media was calling "the Toronto Sound". The song, issued in 1965 on producer Duff Roman's own label and then early the following year south of the border on Tower, seemed to have it all - a sizzling organ, effortlessly cool vocals and a guitar solo that in 1965 must have pricked the ears of many a young axeman. Among those who took notice was a young Danny Marks. The Edward Bear guitarist covered the song in 2004 and summed things up quite nicely. "My guy was Freddie Keeler," he once told Billboard. "I can remember being in the back of my dad's car and hearing Freddie's guitar solo...and remembering how great it was."

Of course, Clayton-Thomas' career trajectory was about to go exponential. By early 1966, the Shays were through and by the summer he was enjoying national success with a new band, the more jazz-oriented Bossmen, and their anti-war anthem 'Brainwashed'. But he would soon after quit the stifling Canadian scene altogether, choosing instead to spend the next couple of years sleeping on floors and sofas in Greenwich Village until one night, while singing at a club called the Scene, he was introduced to Blood, Sweat and Tears members Bobby Colomby and Jim Fielder, and...well...suffice it to say that David Clayton-Thomas' sleeping arrangements were never again quite so dire.
Suggestions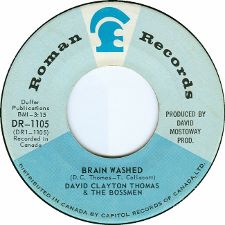 David Clayton Thomas and the Bossmen
Brainwashed / Barbie-Lee - 7"
Roman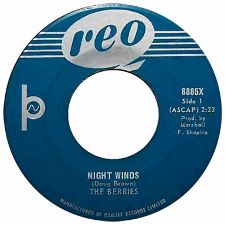 The Berries
Night Winds / Valley of Three Tears - 7"
Reo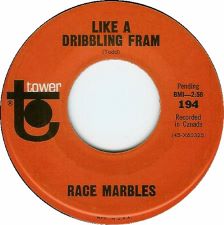 Race Marbles
Like a Dribbling Fram / Someday (the World Will Be as Lovely as Before) - 7"
Capitol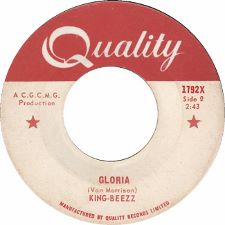 King-Beezz
She Belongs to Me / Gloria - 7"
Quality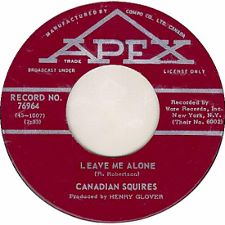 The Canadian Squires
Uh Uh Uh / Leave Me Alone - 7"
Apex