Hank Snow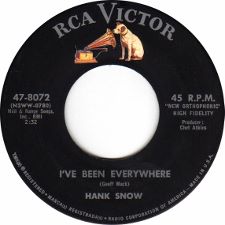 I've Been Everywhere / Ancient History - 7"
RCA Victor - 1962


Michael Panontin

Given his wretched childhood, it's a wonder Hank Snow ever sang at all, let alone became Canada's most important country music performer ever.

Born in tiny Brooklyn, Nova Scotia into what could only be described as grinding poverty, Snow at least had the good fortune to have parents who sang, his father "in an amateurish way" and his mother "an accomplished singer" who played piano for silent films at the local theatre and who would sometimes perform in minstrel shows. Unfortunately, his parents split when Snow was just eight, and the young lad went to live with his paternal grandmother, who often subjected him to severe beatings and psychological abuse, and who bitterly forbade him to utter his mother's name in her presence. By twelve, Snow was frail and sickly and once more the object of verbal abuse, this time at the hands of his mother's new husband.

Snow's music career would begin in earnest when, as a teenager working to help out his family, he managed to save up enough cash - $12.95 to be exact - to order a new guitar from the Eaton's catalogue. With his new axe in hand, the budding musician started performing anywhere he could, from an old fish house where the crusty locals stored their gear to a minstrel show in nearby Bridgewater. By age 19, he had taken to calling himself The Cowboy Blue Yodeler in honour of his idol Jimmie Rodgers. Snow signed to RCA Victor in Montreal in 1936 and released his first record ('The Prisoned Cowboy' b/w 'Lonesome Blue Yodel') under the name Hank, the Yodeling Ranger. In 1945, he headed down to Nashville in search of greater fame and by 1950, after a slot at the Grand Ole Opry, he had earned the first of many number one hits, the toe-tapping 'I'm Moving On', which sat at the top spot for a then-unfathomable 21 weeks.

Of course, there would be many more chart-toppers throughout Snow's surprisingly fecund career, but none was as enduring as a little-known novelty song that had charted down under for early Aussie rocker Lucky Starr in 1962. Starr's version told the story of an intrepid hitchhiker who, after being picked up on a dusty road in the middle of the outback, brags to his benefactor that "I've been everywhere, man / 'cross the deserts bare, man / I've breathed the mountain air, man / Of travel, I've had my share, man." It then rifles off a litany of exotic locales with tongue-twisting names like Woolloomooloo, Murwillumbah, Tuggerawong, Muckadilla and, well, you get the idea.

Snow's rendition Americanizes things, naturally, slipping in places like Winnemucca, Tallapoosa and Kalamazoo (as well as Toronto and Ottawa for his Canadian fans). But more importantly, I suppose, is the fact that his version eases up a bit on the throttle, slowing the tempo down just enough to make it a little less Australian square dance and a tad more American hoedown. And that seemed to work just fine, as 'I've Been Everywhere' reached the top slot on Billboard's Hot Country Singles chart for the week of October 28th, 1962.

Many others have tried their hand at the song. There were covers by the likes of Rolf Harris, Lynn Anderson, Willie Nelson, the Statler Brothers and, of course, one by Johnny Cash that accompanied Homer Simpson on his disastrous RV adventure during Season 16. Snow himself became much more American as the years passed, having naturalized in 1958 and then campaigning for George Wallace on his race-fuelled bid for President in 1968. Still, though shilling for Jim Crow was probably about as far from Canada as you could get back then, Snow always seemed to keep a place for his Canadian roots, maintaining friendships back home and even going so far as to set those memories to wax in 1968 with his My Nova Scotia Home LP.
Suggestions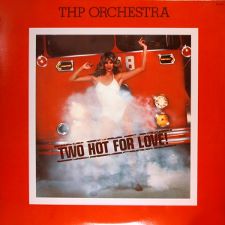 T.H.P. Orchestra
Too Hot for Love
RCA Victor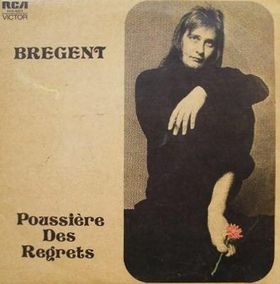 Bregent
Poussiere Des Regrets
RCA Victor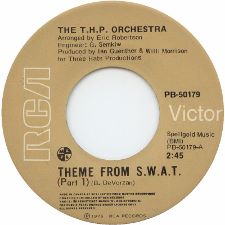 T.H.P. Orchestra
Theme from S.W.A.T. (Part 1) / Theme from S.W.A.T. (Part 2) - 7"
RCA Victor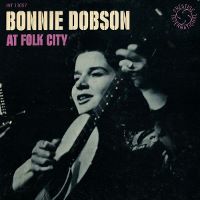 Bonnie Dobson
At Folk City
Prestige International



Chad Allan and the Reflections
Tribute to Buddy Holly / Back and Forth - 7"
Canadian American