Bonnie Dobson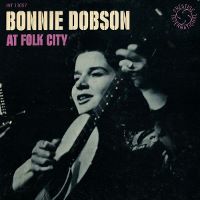 At Folk City
Prestige International - 1962


Michael Panontin

For Bonnie Dobson, protest singing must have run deep in her veins. The Toronto-born singer-songwriter was the daughter of a trade unionist who would send her to socialist camps when she was barely into her early teens. "As a teenager I went off to summer camp in Quebec, and also in Ontario," she told Randy Jackson at taco.com. "We used to have people like Pete Seeger and Leon Bibb come up and give concerts on the weekends and that's when I really got into it and started playing the guitar and got really keen, really interested."

While pursuing an English degree at the University of Toronto and when her folk music was nothing more than a hobby, she was offered a chance to tour the U.S. with Sonny Terry and Brownie McGee. That 1960 summer tour stretched out for a couple of years, and by 1960 Dobson, who never did make it back to complete her degree, ended up in Greenwich Village at the legendary Gerdes Folk City to record a live set of songs for the Prestige label. Most of At Folk City featured Dobson's sober, high-pitched warble, and most probably drew comparisons to the great Joan Baez at the time. And like the bulk of Dobson's records, At Folk City was hardly a million-seller. But tacked on at the end of side two was a song that would become a touchstone for hippies and peaceniks during those turbulent years at the close of the 1960s.

The anti-nuke 'Morning Dew' chronicled the chilling prospects of total nuclear annihilation just as the U.S.-Soviet arms race was really starting to escalate in earnest. Dobson had drawn inspiration several years earlier back home in Canada after seeing Stanley Kramer's post-apocalyptic expose. "I saw a film called On the Beach and it made a tremendous impression on me," she recalled, "particularly at that time because everybody was very worried about the bomb and whether we were going to get through the next ten years." 'Morning Dew' is a supremely haunting piece of music, Dobson's vocals especially so, as she sings of the survivors after a nuclear attack ("Oh, where have all the people gone? / Won't you tell me where have all the people gone?").

Of course, Dobson would have become even more of a footnote in the annals of pop had it not been for a fortuitous call from Elektra Records in 1964. As Dobson remembered it, "Jac Holzman rang me in New York and he said 'You wrote 'Morning Dew' didn't you?' and I said 'Yes'. He said 'Have you published it?' 'cause I was quite a little dumb-dumb actually in those days. He said 'Well, Fred Neil wants to record it, so we would like to publish it.'" But it wasn't until Tim Rose radically reworked the song a few years later that things really started to take off. It was Rose's impassioned version - electrified, literally with bass and drum tracks and metaphorically with a rage-fuelled vocal - that popularized the song just as interest in acoustic folk was starting to wane.

What followed in the next few years was nothing short of amazing. The Grateful Dead issued a typically West Coast version of 'Morning Dew' on their debut album, while Rod Stewart and Jeff Beck tarted it up the following year with some gruff vocals and psychedelic guitar noodlings. The song even made it into the seventies with Nazareth's thundering proto-metal cover and then into the eighties with a rendering by Devo that Dobson thought "pretty grim...terrible actually". But for those willing to do a little digging, the 31st of February (which featured pre-Allman Brothers, Duane and Gregg, plus drummer Butch Trucks) recorded a demo of it in 1968, taking the song way down south and making it all their own.

As for Bonnie Dobson, well, she would return to Toronto in 1965 - ironically just as 'Morning Dew' was about to go viral south of the border - and then later to England to live out her days in relative obscurity. And though she would ultimately make records right into the early eighties, she will always be remembered - if she is at all - for the beautifully evocative yet unnerving 'Morning Dew'.
Suggestions



Chad Allan and the Reflections
Tribute to Buddy Holly / Back and Forth - 7"
Canadian American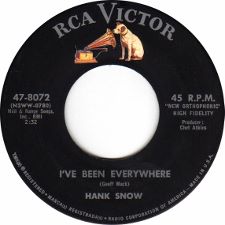 Hank Snow
I've Been Everywhere / Ancient History - 7"
RCA Victor