The Tiaras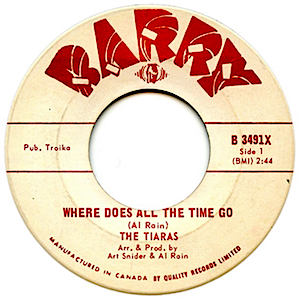 Where Does All the Time Go / All I Ever Need Is You - 7"
Barry - 1968


Michael Panontin

Brenda Russell was just 12 years old when her musical parents (her father Gus Gordon was once a member of the Ink Spots) left Brooklyn for the relatively colour-blind city of Hamilton, Ontario. And while the idea that Canada in the 1960s was a storybook world of peace and love to all would be laughable to any visible minority, it did have a weirdly encouraging effect on the young newcomer.

"I was the only black kid in the entire school, the only black kid anyone had ever met," she would tell the Globe and Mail in 2009. "They picked on me for being black, but it wasn't racism like we had in the States. They just had preconceived ideas of what blacks were. They assumed I could sing and dance, and, as it happened, I could. But my father loved it here. He had never felt so treated like a human being."

Russell joined the Tiaras while the Toronto-based group was playing in Hamilton, according to Al Rain, who composed all four of the group's northern soul sides. In a recent e-mail to CM, Rain remembers the young singer with affection. "Bubbly, lovely and talented," he wrote. "What a delight she was!" The Tiaras - Russell along with Jackie Richardson, Colina Phillips and Arlene Trotman - would soon catch the attention of Toronto producer Art Snider, who hauled them into the studio, ostensibly just to sing back-up on some of his projects, like Pat Hervey's 1966 single 'Can't Get You Out of My Mind' and Grant Smith and the Power's blue-eyed soul corker 'Thinkin' 'Bout You' a couple of years later.

But by 1968, the Tiaras were ready for their own big time. Snider issued the first of their records, the silky 'Where Does All the Time Go' in the spring of that year on Barry. "The vocal and mix were completed at Sound Canada Studios on December 30th, 1967, the night my daughter was born," Rain recalls. "Brenda sang on that one. Colina did the lead and was absolutely wonderful...all that harmony and my string arrangement. A really wonderful record...one of my faves!" Alas, 'Where Does All the Time Go' barely troubled any charts at the time. But it did at least manage a mention in the March 28th issue of Billboard ("the disk introduction of a Toronto femme group, the Tiaras").

The Tiaras followed up with the frightfully rare 'Foolish Girl' b/w 'Surprise' single on the totally obscure Op-Art imprint before calling it a day. Russell, by then in her late teens, took up the piano and joined the Toronto production of Hair. She would later record a couple of albums with her husband for Elton John's Rocket Record Company in the mid-to-late seventies. But Russell's biggest fifteen minutes of fame would come to her as a solo artist...twice actually, with a top-30 hit, 'So Good, So Right', in 1979 and then again in 1988, when her 'Piano in the Dark' cracked the U.S. top ten and earned her three Grammy nominations.
Suggestions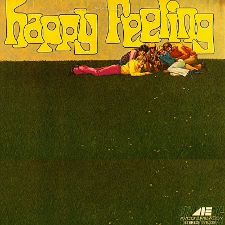 Happy Feeling
Happy Feeling
Barry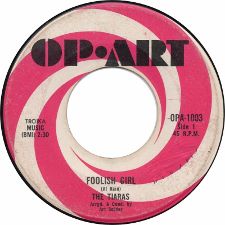 The Tiaras
Foolish Girl / Surprise - 7"
Op-Art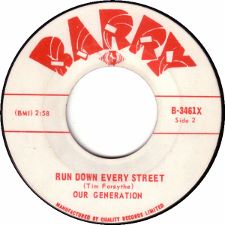 Our Generation
I'm a Man / Run Down Every Street - 7"
Barry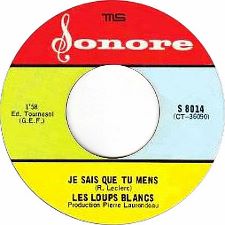 Les Loups Blancs
Je sais que tu mens b/w Sylvianne - 7"
Sonore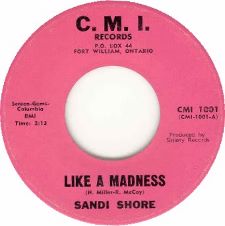 Sandi Shore
Like A Madness / Until You're Home Again - 7"
C.M.I.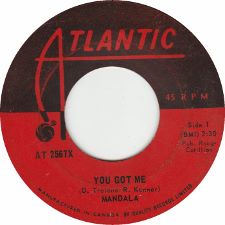 Mandala
You Got Me / Help Me - 7"
Atlantic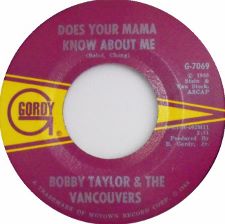 Bobby Taylor and the Vancouvers
Does Your Mama Know About Me / Fading Away - 7"
Gordy