Guido Basso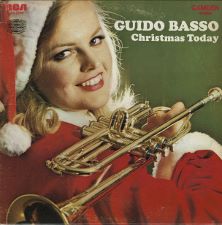 Christmas Today
RCA Camden - 1968


Michael Panontin

For people of a certain vintage, Yuletide used to mean Yukon Cornelius battling the abominable snowman, Andy Williams in turtlenecks, and the wholesome music of Henry Mancini, the Swingle Sisters or Herb Alpert. Guido Basso's Christmas Today, released towards the tail end of the sixties, falls into the latter category and is sort of a holy grail for connoisseurs of soft pop and lounge Christmas records.

Basso actually had a long and illustrious career at the CBC, appearing on numerous records and TV specials. The Montreal-born trumpeter and flugelhornist was somewhat of a prodigy even before his arrival at the CBC, touring with Vic Damone as a teenager and then with Pearl Bailey and her husband, drummer/bandleader Louie Bellson, just a few years after that. By 1968, Basso had logged the better part of a half-decade as a music director for that once-illustrious institution and thus had access to the cream of CBC's roster of talent, including the likes of flautist Moe Koffman, organist Doug Riley, and most importantly, the formidable arranging skills of Jimmy Dale, all of whom appear on Christmas Today.

Basso's name and mug may grace the front and back covers, but this record's charm would be greatly diminished without Dale's contributions. Songs like 'Santa Claus is Coming to Town' or 'Sleigh Ride', which are often more ho-hum than ho-ho-ho, are tarted up with the lush voices of the Laurie Bower Singers, while Sinatra's 'Christmas Waltz' (originally the b-side to 'White Christmas') is given what must have been at the time a very trendy bossa nova touch. And the timeless 'God Rest Ye Merry Gentleman' - still the standard by which all carols are measured - is positively glorious, with its curious mix of trumpet, backing vocal and keyboard wending in and out of it.

Of course, there was no post-Christmas letdown for either Basso or Dale, with the former going on to perform with Rob McConnell's Boss Brass on over thirty recordings and the latter leaving for Hollywood soon after the release of Christmas Today to become musical director for such top-rated TV hits as The Smothers Brothers Show, The Andy Williams Show and The Sonny and Cher Comedy Hour.
Suggestions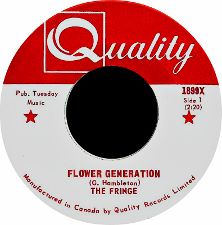 The Fringe
Flower Generation / Token for My Mind - 7"
Quality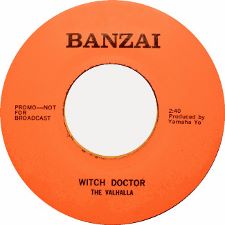 The Valhallla
Witch Doctor b/w Mister Fantasy - 7"
Trend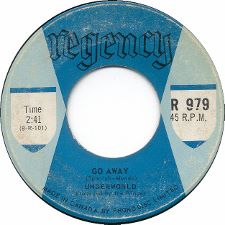 The Underworld
Bound b/w Go Away - 7"
Regency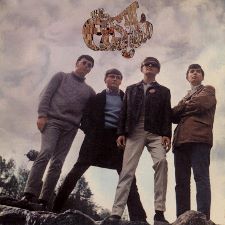 The Plastic Cloud
The Plastic Cloud
Allied