Andy Kim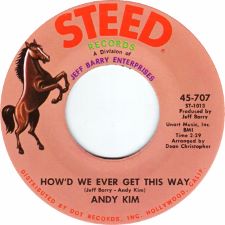 How'd We Ever Get This Way / Are You Ever Coming Home - 7"
Steed - 1968


Michael Panontin

The world can probably be divided into two camps: those who will and those who will not admit to secretly loving Andy Kim's jubilant sing-along 'Rock Me Gently', which topped charts on both sides of the 49th way back in 1974. But few know that the native Montrealer can trace his recording lineage all the way back to 1963, when he issued his first record of self-penned songs. Or that the man who co-wrote the Archies' 'Jingle Jangle' and 'Sugar Sugar' actually kicked off his career in the Brill Building, New York City's hit-making mecca at the corner of Broadway and 49th Street.

Born Andy Youakim, the third of four sons to Lebanese immigrant parents, the young Kim found his vocation very early in life. "I was one of those kids that would not only buy the record, but I would be excited and interested in who wrote what, and where did this originate," Kim would tell Gary James on the Classic Bands site.

But Kim had cut his young teeth in "the alleyways and tenements" of Montreal and thus possessed street smarts in spades. He trucked on down to New York while still in his teens, and with equal parts chutzpah and bullshit, talked his way into meeting Jeff Barry. "I'd make a story up," is how Kim remembers it. "I was able to walk into the offices of Lieber and Stoller, which is where Jeff Barry was at the time. You go into the Brill Building...'Hi, Jeff Barry. Can you tell me what floor? Oh, the 9th floor'...I went to his offices and I said 'I'm here from Montreal, Canada. I have some songs and have some appointments in the afternoon.' I made it like I was busy."

So when the legendary songwriter's romantic and professional relationship with Ellie Greenwich started to sour, sometime in the mid-sixties, the opportunity was ripe for a young Canadian upstart like Kim. They soon established themselves as a team that saw the two of them co-writing songs, with Barry handling the production duties as well as the distribution on his newly-formed Steed label.

The duo found success on their first offering, the buoyant, though bittersweet, 'How'd We Ever Get This Way', which cracked the top ten up here in Canuckistan and achieved a respectable #21 down south. In his liner notes to the record's 2006 reissue onto CD, Richie Unterberger pointed out its "hand-clapping rhythm, catchy easygoing melody, and faint Caribbean feel", all hallmarks, he writes, of the Kim-Barry songwriting machine. Barry would escort Kim up into the charts again the following year, with a recycled version of his (and Greenwich and Phil Spector)'s 'Baby, I Love You' reaching the top slot in Canada and earning the singer a Gold Leaf (Juno) Award for Best Male Vocalist in 1970.

Kim's luck ran out sometime in the mid-seventies, though not it would appear entirely. The one-time international heartthrob lay dormant for the better part of three decades until 2010, when he found himself on an improbable bill with Broken Social Scene at Montreal's Metropolis club, his first live appearance in his hometown in four decades. That night, Kim joined the Toronto scenesters on stage for a rousing rendition of none other than 'How'd We Ever Get This Way', which somehow led to an (equally improbable) friendship with BSS' Kevin Drew, some thirty years his junior. "I can't explain the connection," Kim told the Globe and Mail. "I just go with it." Drew, for his part, has reciprocated the love by essentially rescuing the singer from near total obscurity with his annual Andy Kim Christmas Show, a festive and star-studded song night held in Toronto each December.
Suggestions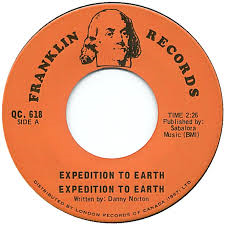 Expedition to Earth
Expedition to Earth / Time Time Time - 7"
Franklin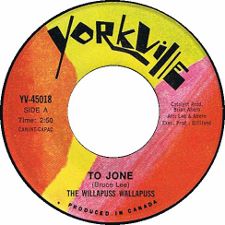 The Willapuss Wallapuss
To Jone / Sacrificial Virgin - 7"
Yorkville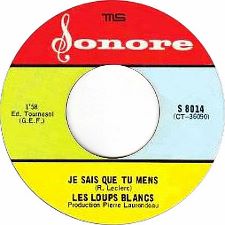 Les Loups Blancs
Je sais que tu mens b/w Sylvianne - 7"
Sonore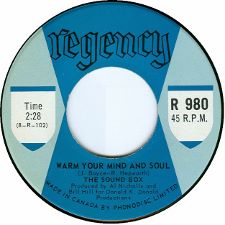 The Sound Box
Warm Your Mind and Soul / I'm Learning - 7"
Regency