Our Generation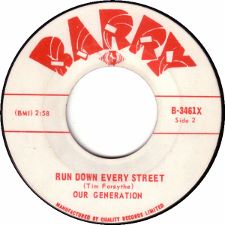 I'm a Man / Run Down Every Street - 7"
Barry - 1967


Michael Panontin

In the mid sixties Montreal's anglo suburbs on the western part of the island were a hotbed of garage rock, with bands like the Haunted and M.G. and the Escorts kicking up quite a storm locally. The five-piece Our Generation was formed there sometime around the summer of 1966, in Lachine in what is now part of southwest Montreal, by singer Jim Robertson and keyboard/harmonica player Tim Forsythe.

The crew set up band practices in the basement of Forsythe's parents' house, and not long after that were strutting their stuff on stage at a dance organized by their high school teacher at the local YMCA. Edward Pickersgill recalls on the Garage Hangover site, "(Drummer) Domenic Angelicchio and (bassist) Danny Barrucco were students of mine at Bishop Whelan High School in Lachine. Our Generation's debut at the Lachine Y was at one of the dances I put on at that location so they had an "in". I also managed to get them on stage at the Bonaventure Curling Club, which was the big weekly dance (4 to 5,000 in attendance every Saturday night) put on by Dave Boxer from CFCF."

Their seven-inch debut for Barry was a stormy cover of the perennial Muddy Waters favourite, long on Yardbirds chops but, alas, a tad short on originality. Ditto, it would appear, for the flipside. The jangly 'Run Down Every Street' seems to veer perilously close to Donovan's 'Season of the Witch', a song that came out just a few months before and which would have been charting just as the boys were recording this.

After some line-up changes and a jump over to the heftier Trans-World label (home of course to fellow homies the Rabble and the Haunted), Our Generation recorded their final record, the acid-tinged 'Cool Summer' the following year.
Suggestions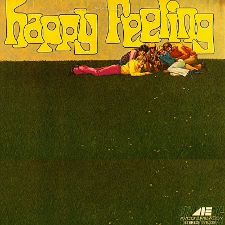 Happy Feeling
Happy Feeling
Barry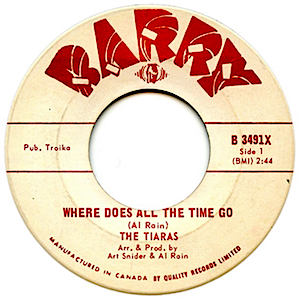 The Tiaras
Where Does All the Time Go / All I Ever Need Is You - 7"
Barry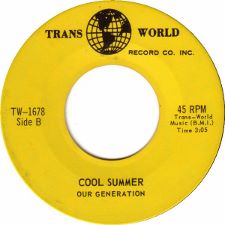 Our Generation
Out to Get Light / Cool Summer - 7"
Trans-World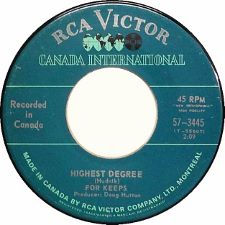 For Keeps
Morning Town / Highest Degree- 7"
RCA Canada International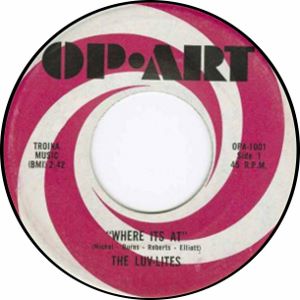 The Luv-Lites
Where It's At / Born in Chicago - 7"
Op-Art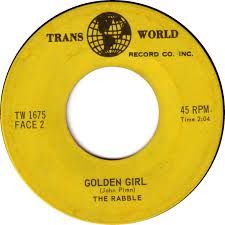 The Rabble
You Come On Too Strong / Golden Girl - 7"
Trans-World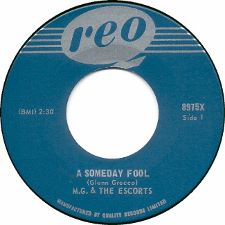 M.G. and the Escorts
A Someday Fool / It's Too Late - 7"
Reo