UJ3RK5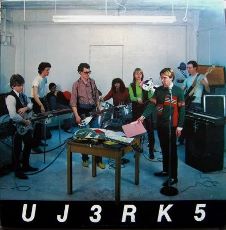 UJ3RK5 - 12" EP
Quintessence - 1980


Michael Panontin

UJ3RK5 may well have been the quintessential nerdy art school band of the punk era. Where most acts back then were filled with the usual poseurs, undergrads and hangers-on, UJ3RK5's roster was a virtual who's who of the Vancouver art world and included budding photo-conceptualists Ian Wallace, Jeff Wall and Rodney Graham. As well, David Wisdom, who would etch out his own little niche in the Canuck arts scene as a photographer and long-time DJ for CBC Radio, sang and played organ for the group.

UJ3RK5 formed in 1978 around a nucleus of Graham, who wrote songs and played guitar, and singer/synth player Frank Ramirez (born Frank Johnson). "[Frank and I] were a duo making taped experiments," Graham would later tell Border Crossings magazine, "and then when the UJ3RK5 thing came along, we were galvanized by the whole punk new wave scene, specifically Devo, the ultimate inspiration for art school bands. So we thought we'd give it a try."

Initially, though, UJ3RK5 were just a bunch of friends making noises in a Simon Fraser University studio. "In its early days, UJ3RK5 was as much a social club as a band," Wisdom explained in a recent article in The Tyee. "We would jam for a while, then go out for drinks, dreaming up pranks and escapades." As things got more serious, the group, which eventually counted eight members in its line-up, ventured out into the clubs. Their first show at the Helen Pitt Gallery on Pender Street in March of 1979 was a predictably artsy affair with Wall appearing on stage with a fake tracheotomy bandage on his neck.

As the band started to refine those primitive, wacked-out sounds - something Wisdom would later dub "a snappy blend of the meticulous and the unrestrained" - they set their sights on getting their own slab of indie wax into the shops. And so in late 1979, UJ3RK5 entered Little Mountain Sound to lay down tracks for a twelve-inch EP, to be released on Ted Thomas' hip indie imprint, Quintessence Records, home to such local luminaries as D.O.A., the Subhumans, Pointed Sticks and the Modernettes.

UJ3RK5 is a decidedly quirky affair and bears all the futuristic hijinks of those humanoids from Akron. Devotees will find plenty to like, from the jerky guitar licks and dizzying acetone swirls to Ramirez's nervous hiccuppy vocals. 'Eisenhower and the Hippies' is probably the best cut here and was dutifully covered by Man...Or Astroman after they allegedly happened upon a copy of the EP in a bargain bin some fifteen years later. And with a cover pic that was shot by Jeff Wall himself (which, Wisdom wryly notes, "remains his most affordable edition"), the UJ3RK5 EP is a singularly perfect document of the punk scene's outer fringes at the time.

Polygram - almost implausibly, I'd say - actually reissued UJ3RK5 that same year and, as Wisdom remembers it, even had bigger plans for the group. "The company expected us to embark on a career of touring and recording," he recalled, "perhaps to become the Devo of Canada." But that was never to be. For one thing, both Wall and Wallace were already well into their thirties and quite gainfully employed as professors at SFU and the Emily Carr Institute of Art and Design, respectively.

Graham is somewhat more philosophical about the whole thing. "Bands don't generally last that long anyway. There were members of the band - like Frank and me - who were interested in pursuing it further, but Jeff and Ian had regular jobs. It looked like something might happen but it never did."
Suggestions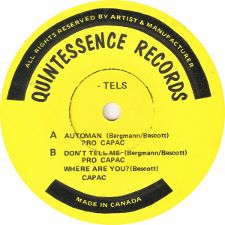 The K-Tels
Automan EP - 7"
Quintessence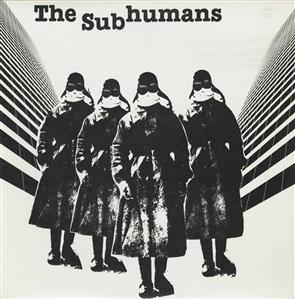 The Subhumans
The Subhumans EP - 12"
Quintessence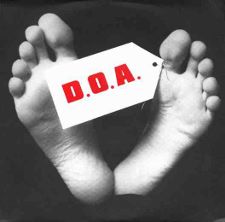 D.O.A.
The Prisoner / 13 - 7"
Quintessence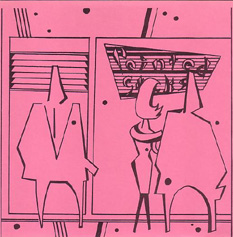 The Pointed Sticks
What Do You Want Me to Do? b/w Somebody's Mom - 7"
Quintessence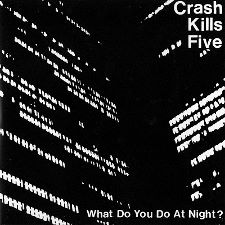 Crash Kills Five
What Do You Want Me to Do - 7"
(independent)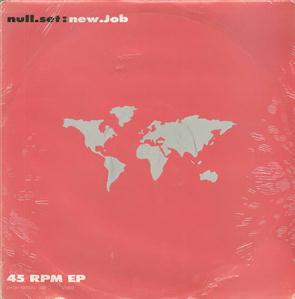 Null Set
New Job - 12" EP
Nova Scotia College of Art and Design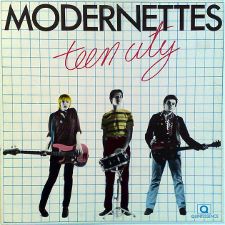 The Modernettes
Teen City - 12" EP
Quintessence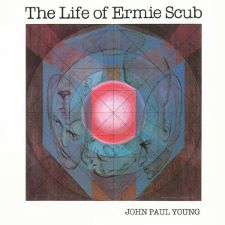 John Paul Young
The Life of Ermie Scub
CMDC