Merryweather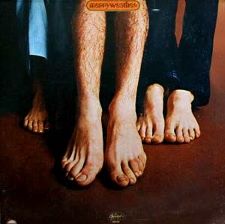 Merryweather
Capitol - 1968


Nick Warburton

The mid-to-late 1960s California rock landscape was littered with Canadian expatriates jostling for a record deal and the allure of fame and fortune. By the end of the decade, Canadian musicians were arriving in droves and could be found plying a trade in such notable bands as the Mamas and the Papas, Buffalo Springfield and Steppenwolf. The Band, easily Canada's finest export, cut their legendary second album in Los Angeles. One of the lesser-known Canadian groups to work on the West Coast was the short-lived Merryweather, a talented bunch of Ontario musicians fronted by former Mynah Birds bass player Neil Lillie (today better known as Neil Merryweather).

The story begins in Toronto in 1964, when Lillie, having only recently arrived from Winnipeg, started singing for Yorkville mainstays the Just Us. The band scored a recording deal with Quality Records and a lone single, 'I Don't Love You' c/w 'I Can Tell', was launched on an unsuspecting public in early 1965. Despite its raw energy and undoubted appeal, the single bombed. The band ploughed on but when an American duo called the Just Us scored a minor US hit with 'You Canít Grow Peaches on a Cherry Tree' in April 1966, they were forced to change their name.

Aware of the changing undercurrent in the local music scene and the dawn of the psychedelic era, the group eventually assumed a more appropriate moniker in September 1966, and one that fitted perfectly with the times...the Tripp. "I came up with that name and I even designed the red suits that we wore that became popular with the fans," recalls Lillie. The Tripp played numerous gigs all over Toronto and the southern Ontario circuit but ultimately never recorded. (Rare footage of the band appearing on the CBC's The Sunday Show has resurfaced in recent years and is something of a revelation. Presented by singer/songwriter Ian Tyson, the Tripp can be seen tearing through a bizarre improvisational number, which clearly leaves the rather conservative studio audience looking dumbfounded and noticeably shocked!)

By September 1967, Lillie was playing bass and singing with a new Toronto band called the Flying Circus, fronted by none other than folk singer/songwriter and guitarist Bruce Cockburn. Lillie stuck with the Flying Circus until March 1968 but eventually left over "creative differences" with Cockburn. Intent on finding an outlet for the new material he was writing, Lillie started to look around for suitable partners. Within a matter of weeks, he had reunited with his former cohorts from the Tripp - organist Ed Roth and singer Jimmy Livingstone.

The band scouted for a suitable guitarist and initially auditioned a very young guy called Danny Marks, who was playing with a local group called Edward Bear. ("He was a real nice guy but he went in a different direction to us," points out Lillie.) It was then that the Ugly Ducklings' singer Dave Bingham directed the group to the guitarist they were looking for, 19-year-old David Colin Burt (b. 19 September 1948, Hamilton, Ontario), who was currently playing with St Catharines band the Fraser Loveman Group. Burt remembers playing at a school gymnasium somewhere between Toronto and Hamilton one night when the others, on Bingham's recommendation, dropped by to check the young guitarist out. "I saw the whole band standing out there on the dance floor and on the break they said, 'Do you want to go to California with us?'"

The decision to try their luck in Los Angeles came about after Lillie and Livingstone had run into former Buffalo Springfield bass player Bruce Palmer at his brother's house in Toronto. Palmer, who had recently been busted for marijuana possession and deported to Canada "put this whole picture of California in our heads," explains Lillie. "After hearing Bruce's stories of how great L.A. was, I decided to form a band specifically to go to California, not to play locally."

Calling themselves Heather Merryweather (after a poem written by Palmer's friend June Nelson), the five - Lillie, Roth, Livingstone and Burt, with drummer Gary 'Coffi' Hall rounding things out - jumped in an old Chevy and drove non-stop to Los Angeles in about three days. With no instruments and armed only with an acetate of three songs they had recorded at Toronto's Arc studios just prior to leaving, the group had a rude awakening after finally reaching their destination. "When we got there we found out that June [Nelson] didn't have any preparations for us," recalls Burt.

With little money, Heather Merryweather had to depend on the kindness of strangers to get by. "At first we lived in a motel called the Hollywood Center," remembers Roth. "One week in, some guy tried to commit suicide there by filling his cottage with gas from the stove and lighting it. He survived somehow. I'll never forget coming home to the motel and seeing all the venetian blinds blown out of the windows."

Heather Merryweather made their debut at The Big Pink on 22 September. "A lot of the Topanga people went to The Big Pink, in the Valley," remembers Roth, "Members of the Doors and Spirit used to come see us." Singer Jimmy Livingstone was getting increasingly unpredictable, however, and was given the elbow after the Big Pink shows. "Jimmy disappeared with Linda for a couple of days. I think they went into the bush for a while," remembers Burt. "Jimmy came back and I don't know if he was too unstable or whether he just didn't want to stay with us. He was too much of a free spirit."

With Livingstone gone, Lillie took over the lead vocal spot and also assumed creative control over the group's direction. He immediately made an impression on the others. "We didn't realise he had such a great voice and he could compose like crazy," recalls Burt. "He would write from the bass so he had all this room. He would be playing all these bass lines and singing all these interesting melodies and Ed Roth and I would put all the harmonic movement to it."

In early October, Heather Merryweather opened for the Chicago Transit Authority, who were making one of their first L.A. appearances. By all accounts, the band's performance was well received and in January 1969 producer John Gross signed Heather Merryweather to Capitol Records to a seven-year deal. The group began recording in earnest and proceeded to lay down ten tracks, most written by Lillie. Most of the album was recorded at Independent Recorders where the assistant engineer was Jo Stafford's son. "The studio was our sandbox," continues Roth. "We tried everything. In Toronto the most we recorded on was three-track. Here we had eight [and] later sixteen on our next album. We rented strange instruments - a cello, an Ondioline, boom bams, whatever we wanted. Dave and I had never touched a cello, but we played them on the album. It was fun."

Shortly after completing the recordings in February 1969, Neil Lillie legally changed his surname to Merryweather after shortening the group's name. ("There was no person called Heather Merryweather," explains Merryweather. "When I said I was in a band called Heather Merryweather, people asked me if Heather was the lead singer!") Decked in a double-sleeved jacket designed by Ivan Nagy, which showed the band sitting barefooted, the group's eponymous album arrived in the record stores in late spring but received very little, if any, publicity, other than a brief mention in Billboard magazine in its 17 May edition. That's something of a shame because Merryweather was a strong debut and contained some brilliant individual songs, most notably, Neil Merryweather's 'Mr Richman', which opened proceedings and 'No Passenger Allowed'. Other highlights include the Merryweather-Burt collaboration, 'A Feeling of Freedom' and 'Little Man', a song from their Arc demo tape.

The group followed up with a cameo appearance in a Russ Meyer movie called The Seven Minutes, as well as a prestigious appearance at Newport '69 in June, a three-day festival that also featured the Jimi Hendrix Experience, Credence Clearwater Revival, the Byrds and Poco among others. ("We opened up on the Sunday morning and it was great," remembers Merryweather. "I had this guy in the audience that had an American flag with the peace symbol in the middle climb the hundred foot sound speaker towers and put it up at the top and everybody went ballistic.") In July, work began on the band's second album, a two-disc "super jam" set that saw the band joined by various musicians, including Steve Miller, Howard Roberts, Barry Goldberg, Charlie Musselwhite and former Traffic guitarist Dave Mason.

By this time, Merryweather was starting to establish a following around the Los Angeles area, headlining Thee Experience that September and performing at Balboa Stadium in San Diego on a bill that also featured Country Joe and the Fish, Poco and Chicago the following month. "It was probably our biggest success and we were at least second on the bill," Burt recalls. "The crowd was already pumped up for us. [After we had played] they were screaming for us to come up for a third or fourth encore I believe and Neil was yelling at me, 'Do you hear that? Do you hear that?' I said, 'Yeah, I hear it', but by this time some of the business stuff was very shady with the band. Also by this time Rick James had shown up."

Burt's relationship with Merryweather had been deteriorating for some time and the two musicians had increasingly been coming to blows. "We were staying at a motel in Hollywood when Burt showed up and we had a fight," Merryweather explains. "I'd had enough, so I quit. When I was going out the door, Rick James was about to knock. He was coming over to see me. I said, 'Rick, here's a ready-made band - they're yours.'" Merryweather was finished and Burt, Hall and Roth hooked up with Ricky James Matthews to form the ill-fated Salt and Pepper.

For Merryweather, there was a sad footnote to the whole saga. "The piss-off is three weeks [before Rick James turned up]. Chris Sarns, the road manager for Crosby, Stills and Nash, came to see me on behalf of Stephen Stills to ask me and Ed to join their band. I had jammed with Stephen when we hung out together some months before. Our first album had just been released, so I was loyal to the thought that Merryweather had a shot, so I turned down the CSN bass job. At that time, Rick James blew in to town with Greg Reeves. Reeves took the gig with CSN and I gave Rick my band."

Neil Merryweather nevertheless enjoyed a prolific career throughout much of the seventies, recording with the likes of Barry Goldberg, Charlie Musselwhite and his muse Lyn Carey, among many others. And after more than twenty years away from the music world, Neil returned in 2009 with Hundred Watt Head (iFanz Records).
Merryweather
Suggestions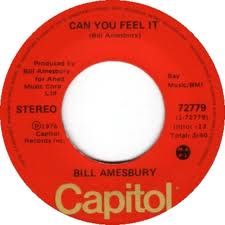 Bill Amesbury
Can You Feel It / Jessi - 7"
Capitol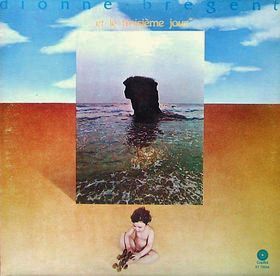 Dionne-Bregent
...Et le Troisieme Jour
Capitol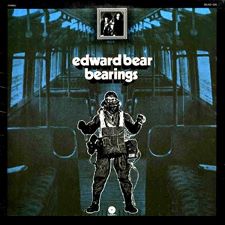 Edward Bear
Bearings
Capitol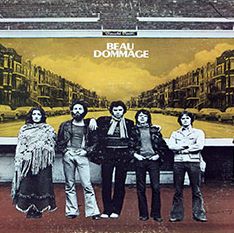 Beau Dommage
Beau Dommage
Capitol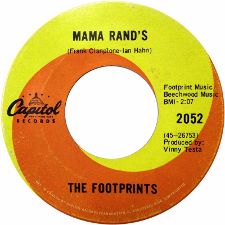 The Footprints
Never Say Die / Mama Rand's - 7"
Capitol