The Band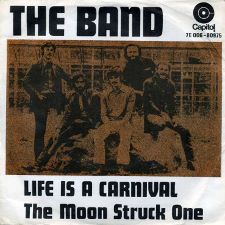 Life Is a Carnival / The Moon Struck One - 7"
Capitol - 1971


Michael Panontin

By the tail end of 1970, the Band were pretty well sitting on top of the world. In just a few short years, they had managed to place three albums (Music from Big Pink, The Band and Stage Fright) firmly in the rock and roll canon. Their three-month tour of the U.S. in the fall of that year had gone almost swimmingly well. And the group's new digs in their adopted home of upstate New York gave them easy access to state-of-the-art recording facilities that were just around the corner.

Albert Grossman, who was the Band's manager at the time, had set up his Bearsville Studios just a couple of miles to the west of the group's home in Woodstock. A rustic, barnlike building ensconced in the middle of a forest clearing just off Highway 212, Bearsville would soon become a bit of a second home to the five musicians. "Instead of sitting around home and turning on a two-track, we can go down to the studio and turn on a 16-track," drummer Levon Helm boasted at the time. "And instead of some asshole coming in and bootlegging the music we can have the record company do it for us nice and legit."

"In my mind I had my own key to the studio and had drums set up everywhere that I never had to take down," Helm would tell writer Barney Hoskyns a few decades later. "I had this wonderful world built up in my head where the Band would just be making music all the time, and it would just be hand over fist with money and albums, and who's got time to count it?"

But alas, what the five band members - that would be Helm, Robbie Robertson, Rick Danko, Garth Hudson and Richard Manuel to the uninitiated - hadn't foreseen was a nasty bout of writerly constipation for Robertson, their chief songwriter up to that point, as well as one for Manuel, whose own dry spell was fast becoming a wet one fuelled by his non-stop drinking. In other words, all the usual trappings of rock stardom that bedevilled so many musicians back then.

"I can't emphasize how much success had changed everything," Rick Danko would later confess to biographer Stephen Davis "We were outrageous in our behavior, and it was impossible to get people in one place at one time. And when we did, it was hard to work because when we looked at one another and saw how wrecked we were, it was hard not to crack up."

So no surprise I guess that their fourth album, Cahoots, was such a monumental flop. The critics have not been kind to it over the years. Hoskyns found the songs "melodically undistinguished", while Greil Marcus in Mystery Train wrote of "a flatness in the music, [with] good ideas forced through a banal, didactic mesh." Rolling Stone was even more forthright, calling it simply "a catastrophe".

But what they could all agree on was that for all its faults, Cahoots contained one of the Band's finest moments. 'Life Is a Carnival' was a revelation, especially to those who hadn't yet warmed to the group's music. The song paired Robertson's lyrics about "the hustle and freakiness of the street" with a sassy New Orleans funk rhythm that Danko and Helm had laid down at Bearsville. "Rick and I worked on the rhythms for five days," Helm recalled in his autobiography This Wheel's on Fire.

'...Carnival' also owed a sizeable chunk to producer Allen Toussaint, whose crisp horn arrangements give it a jovial, almost Mardi Gras feel. More specifically, a copy of Lee Dorsey's Yes We Can LP, which Toussaint had produced, found its way into the group's hands and allegedly exerted a powerful influence on their songwriting. "They'd heard Lee's album and they were, I guess, impressed a little," Toussaint said in 1973. "They're such good guys and communications were very, very good. They immediately know where you're coming from. The instrumentation was different from what I'd previously used, but I talked it over with Robbie."

'Life Is a Carnival' barely troubled any charts, squeaking in at #25 in Canada and an equally unimpressive #26 in the Netherlands. The Band would record two of Toussaint's songs on future albums, 'Holy Cow' on Moondog Matinee (1973) and 'You See Me' on Jubilation (1998), but neither had the verve of 'Life Is a Carnival'. Helm summed things up nicely, "It was one of the last of those real good Band songs that came out of that workshop setting we liked."

Other triumphs followed of course - the excellent Rock of Ages live set for one - but it was becoming clearer and clearer that their best days were behind them. Martin Scorsese's massively acclaimed concert film The Last Waltz in 1978 did much to resurrect them, but really by then it was all academic, as the Band's bucolic, backwoods sound had long passed its best-before date.

A note to collectors: in addition to the usual English-speaking markets, 'Life Is a Carnival' was also issued with full colour picture sleeves in many European countries, notably the Netherlands, France, Germany, Denmark, Sweden and Norway (pictured here).
Suggestions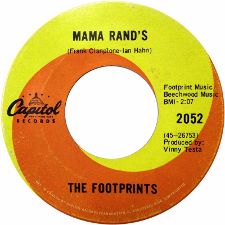 The Footprints
Never Say Die / Mama Rand's - 7"
Capitol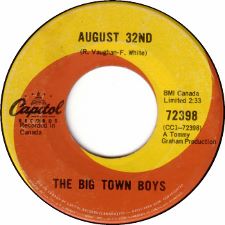 The Big Town Boys
August 32nd / My Babe - 7"
Capitol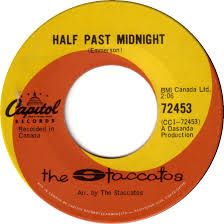 The Staccatos
Half Past Midnight / Weatherman - 7"
Capitol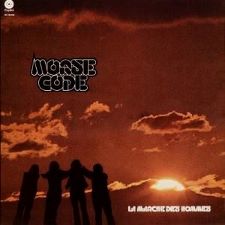 Morse Code
La Marche des Hommes
Capitol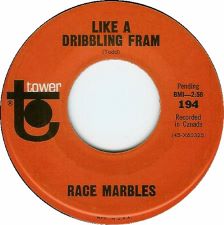 Race Marbles
Like a Dribbling Fram / Someday (the World Will Be as Lovely as Before) - 7"
Capitol