The Ugly Ducklings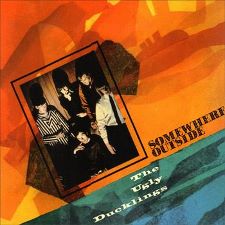 Somewhere Outside
Yorktown - 1966


Michael Panontin

Nineteen sixty-six was the year pop's voice cracked, when its squeaky clean Beatles complexion broke out in the pimply scruff of garage rock all over North America. From the Chocolate Watchband out in San Jose and the 13th Floor Elevators in Texas to the Unrelated Segments in Detroit and the Remains in Boston, a plethora of scrawny kids fumbled with chords on their used Telecasters while aping Mick's already affected snarls.

Canada had its own share of garage/psych groups whose discs now orbit the stratosphere in collectors' values. Montreal's Haunted can probably lay claim to both the cooler single (the local smash '1-2-5' ) and the pricier vinyl (four figures for their 1967 album), but it is the Ugly Ducklings who were clearly the better of the two, scoring hits on Toronto's legendary CHUM-AM radio station, with their debut platter 'Nothin' eventually reaching number 18 in 1966 and 'Gaslight' peaking even higher the following year. The band even opened for the Rolling Stones at Maple Leaf Gardens in front of 15,000, no doubt providing them with fodder for a lifetime of middle-age boasts.

In 1965, however, the Ugly Ducklings were little more than a teenage Stones cover band with the cheeky monicker the Strolling Bones (for what its worth, perhaps a more apt name for Mick and crew these days), but a year later they had changed their name and begun penning their own songs. They struck both chords and pose well, especially with rhythm-guitarist Glynn Bell's blond mophead making him the spitting image of Brian Jones and no doubt upping his groupie cachet a few notches.

Released at the tail end of 1966 and containing the band's first three singles, Somewhere Outside skirts the cusp of '66 r'n'b and '67 psychedelia. The LP opens with 'Nothin'' and its prototypical garage riff, allegedly recorded on a two-track machine for $300 and pushed into regular rotation just a few weeks later by local deejays. Other tracks, such as the revved-up 'She Ain't No Use to Me' and the searing 'Just in Case You Wonder', their third single, capture on vinyl the hegemony of cool the Ducklings had over the Yorkville scene in Toronto at the time. Still other tracks, like the Rascalesque, harmonica-tinged 'Not for Long', add a quieter balance, while the closer 'Windy City (Noise at the North End)', an acid-blues rave-up, echoes Paul Butterfield's East-West excursions of that same year.

The Ugly Ducklings regrouped in 1980 on the wave of punk to release the humdrum Pain is Alright on Razor records. An eponymous long-player (with a brutally unimaginative cover) that same year compiled the essential tracks on Somewhere Outside along with miscellaneous tracks and their final singles 'Gaslight' and 'Epilogue'. But it wasn't until 1998 that Unidisc mercifully reissued this sweetly remastered CD with its original artwork, front and back, as a low-price disc - no bonus tracks, no added filler - thus making skeets out of all those previous bootleg versions.
Suggestions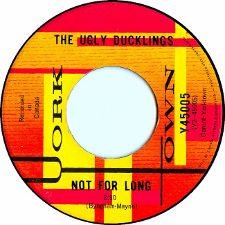 The Ugly Ducklings
Postman's Fancy / Not for Long - 7"
Yorktown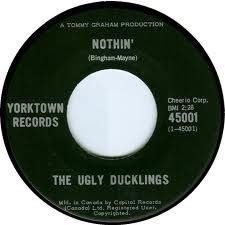 The Ugly Ducklings
Nothin' / I Can Tell - 7"
Yorktown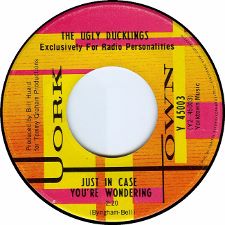 The Ugly Ducklings
Just in Case You Wonder b/w That's Just a Thought That I Had in My Mind - 7"
Yorktown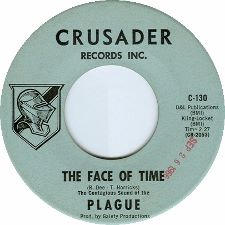 The Plague
The Face of Time / We Were Meant to Be - 7"
Reo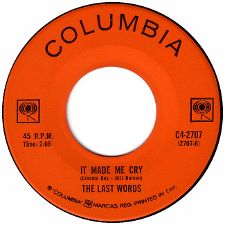 The Last Words
I Symbolize You / It Made Me Cry - 7"
Columbia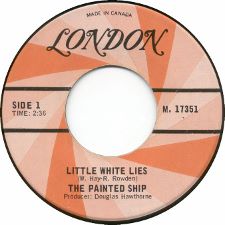 The Painted Ship
Little White Lies / Frustration - 7"
London (Canada) - Mercury (USA)