Les Intrigantes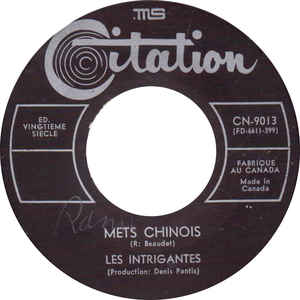 Mets chinois / Le seuil du soleil - 7"
Citation - 1966


Michael Panontin

Les Intrigantes got their start in Quebec City in 1964. It was in that year that the four - guitarists Diane Gallichand and Carole Boutin along with bassist Claire Gallichand and drummer Ginette Douville - came under the tutelage of Roger Beaudet, a member of those cool instrumentalists Les Versatiles who had decided to sort of guide the young ladies on their new career path.

And it didn't take long for the partnership to take effect. By the end of the year, the gals were performing in the numerous salles de danse across the province, taking the stage in places like Drummondville, Saint-Hyacinthe and Granby. In 1965, they hooked up with the soon-to-be legendary producer Denis Pantis, whose Jeunesse Franco label was already busy pumping out singles by bands like Les Baronets and Les Sultans. Les Intrigantes issued a couple of songs written by Beaudet ('Faut savoir' b/w 'Sans toi'), decent enough ye-ye for the time but especially impressive given that the majority of francophone bands back then were peddling middling covers of current anglo pop hits.

By autumn, it was the bright lights and the big city with a gig at Montreal's Club Ye Ye and a piece in the popular magazine Photo Vedettes announcing their arrival. Then it was back to their hometown for a week-long stand at the popular Le Coronet cabaret. In November, the ladies issued what was perhaps their best record, this time for another of Pantis' concerns, Citation. The cutesy ye-ye of 'Mets chinois', another Beaudet composition, curiously grafted elements of rural Quebec - in this case a bit of banjo picking - onto what was probably then considered a more sophisticated Parisian sound. The result is a fantastic example of Quebecois ye-ye that no doubt wagged a few hips on the dance floors of the day.

The flipside featured a more sombre, and much less interesting, cover of Simon and Garfunkel's 'The Sounds of Silence'. And in the next couple of years, Les Intrigantes would go on to issue a few more singles, unfortunately all covers (including a version of the Jefferson Airplane's 'White Rabbit' which must have turned on a few Quebeckers unable to understand the original). By the tail end of 1968, however, Les Intrigantes had pretty well run out of gas and were never to be heard from again.
Suggestions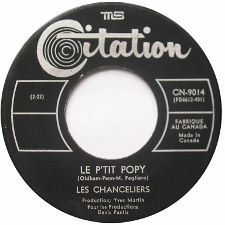 Les Chanceliers
Le p'tit popy / La generation d'aujourd'hui - 7"
Citation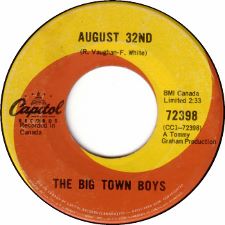 The Big Town Boys
August 32nd / My Babe - 7"
Capitol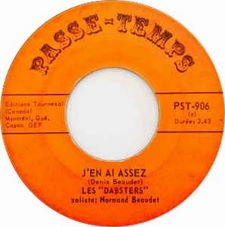 Les Dabsters
J'en ai assez / Tu le sais bien - 7"
Passe-Temps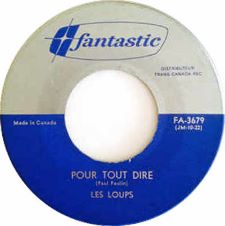 Les Loups
Pour tout dire / De toi - 7"
Fantastic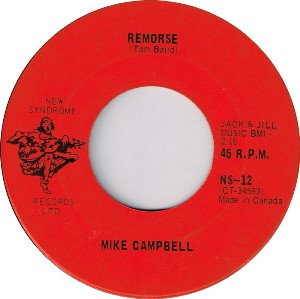 Mike Campbell
Remorse / One Girl - 7"
New Syndrome