The Willapuss Wallapuss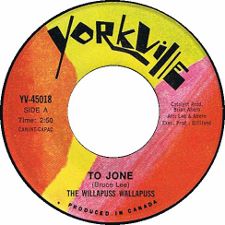 To Jone / Sacrificial Virgin - 7"
Yorkville - 1968


Michael Panontin

Singer/keyboardist Bruce Ley had his fingers in a number of pies back in the day, from Hamilton garagesters the Gentle Touch and their scorching 'Visitors Parking Only' seven-inch to the T.H.P. Orchestra's disco classic 'Too Hot for Love' a decade or so later. In 1967, he quit the Hammer for the bright lights of Toronto and its hopping Yorkville scene. There he hooked up with the already popular Rising Sons, whose second record 'Annie' had charted across Canada from Winnipeg to Halifax, though curiously not on Toronto's powerful CHUM-AM. The Burlington group had also secured a coveted slot on the mammoth fourteen-hour Toronto Sound extravaganza at Maple Leaf Gardens in September 1966 as well as at Montreal's Expo '67 the following June.

"It was around this time that we brought a good friend of our Hamilton days into the group," drummer Robin McMillan would later tell the Burlington Gazette. "[Bruce] was the bass player with the Hamilton group the Pharaohs, who were extremely popular in the Hamilton and Burlington region. Bruce had a knack for singing softer songs and became the Sons' organist."

The Rising Sons - by then Ley along with guitarist Ron Canning, bass player Dave Best and McMillan on drums - were pretty standard currency all over Toronto, gigging at popular hangouts like Yorkville's Cafe El Patio and the Hawk's Nest over on the Yonge Street strip. But for some reason, they got the gimmicky idea of issuing a single under the lumbering pseudonym the Willapuss Wallapuss.

"Bruce wrote a song for his girlfriend Jone and called it 'To Jone'," McMillan added. "This was a pretty good tune, reminiscent of the Young Rascals, and was recorded on the new Yorkville label. We changed our name for this recording to Willapuss Wallapuss just for fun. I believe Ron got the name from an Alice in Wonderland story. The flip side was named 'Sacrificial Virgin'...kind of a spooky sound with Bruce on the organ, with elephant-sounding noises in the background, a trombone, and a chair pushed across the floor, with the rest of us making all kinds of crazy noises."

'To Jone' and its dreamy Boettcher-esque popsike came out in the very early days of 1968 and, if we are to believe the words of one enthusiastic post on the 45cat site, "should have been a HUGE hit". It wasn't, of course. But it did - or so he tells us - manage to occupy the #12 slot on Kingston's CKLC station for a solid three weeks. Of more interest, though, is the fact that 'To Jone' is possibly the first record by fledgling producer Brian Ahern, whose resume would very soon begin to fill up with records like Anne Murray's debut What About Me later that year and Neil Young's Live at the Riverboat, recorded in February 1969 but not released until 2009.
Suggestions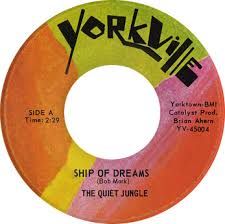 The Quiet Jungle
Ship of Dreams / Everything - 7"
Yorkville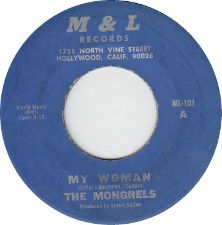 The Mongrels
My Woman / Sitting in the Station - 7"
Franklin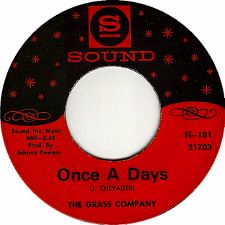 The Grass Company
Once a Days / Once a Child - 7"
Sound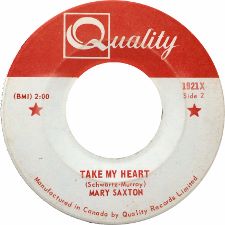 Mary Saxton
Sad Eyes / Take My Heart - 7"
Quality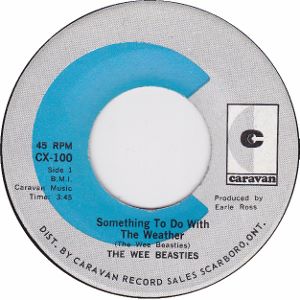 The Wee Beasties
Something to Do with the Weather / The Cherry Tree - 7"
Caravan