Mandala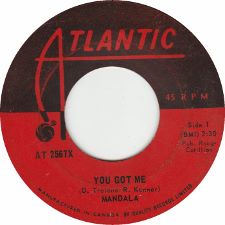 You Got Me / Help Me - 7"
Atlantic - 1968


Michael Panontin

Toronto's Mandala started things off as the Rogues in early 1965 when singer George Olliver teamed up with former Robbie Lane and the Disciples guitar whiz kid Dominic Troiano. A couple of years spent paying dues on Toronto's Yorkville/Yonge Street r'n'b circuit throughout 1965 and '66 (including a short stint with singer David Clayton-Thomas) would cement the band's reputation as the city's premier white soul act. A name change to the trippier sounding Mandala, and a pilgrimage to Chicago's Chess studios netted the band their first national hit, the perennially uplifting 'Opportunity', which climbed to #3 on Toronto's CHUM-AM chart in February of 1967. With Roy Kenner replacing Olliver as their new vocalist, the band walked into New York's Atlantic Studios in early '68 at the behest of his honour Ahmet Ertegun, recording their second chart success, the more prosaic 'Love-Itis' (CHUM, #9) as well as the band's sole long-player, the much-anticipated Soul Crusade.

The non-LP You Got Me saw limited release in December of 1968 just as the band was starting to crumble, but what a delicious swan song it was. It starts off innocuously enough, foreboding and vaguely psychedelic with a subtle Hammond organ intro before blasting into the histrionic chorus. File this one up there with the great soul shouters. The flip is a bit of a toss-away, a hard 'n' heavy slab of mostly forgettable soul blues that is probably best left unheard.

Alas, by early '69 the end was already nigh, as Mandala performed at the massive Detroit Pop Festival in the venerable Olympia buried on the bill under such local luminaries as the MC5, the SRC, the Bob Seger System, and the Amboy Dukes. The lads rode off into the sunset after a final gig that June at the Hawk's Nest back in Toronto, with Kenner, Troiano and drummer Whitey Glan forming the funkier Bush shortly thereafter, and then Troiano later doing guitar work in the James Gang and the Guess Who.
Suggestions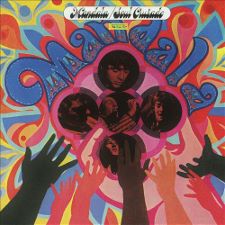 Mandala
Soul Crusade
Atlantic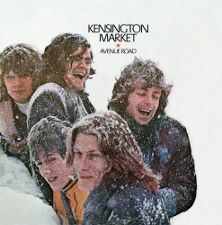 Kensington Market
Avenue Road
Warner Brothers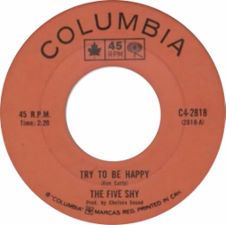 The Five Shy
Try to Be Happy / Saints and Angels - 7"
Columbia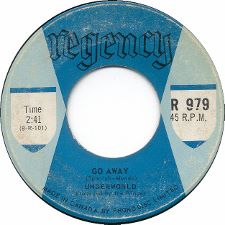 The Underworld
Bound b/w Go Away - 7"
Regency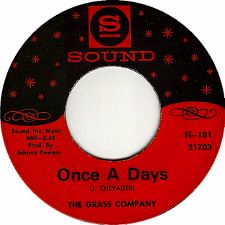 The Grass Company
Once a Days / Once a Child - 7"
Sound