The Mandala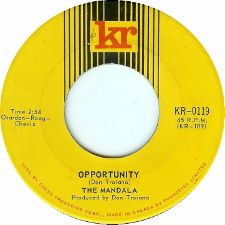 Opportunity / Lost Love - 7"
KR - 1967


Michael Panontin

As the Rogues, and then later as the Five Rogues, keyboard player Josef Chirowski, bassist Don Elliot and drummer Whitey Glan cut their soul teeth in the clubs around Toronto's Yorkville and Yonge Street scenes, holding fort nightly at places like the Bluenote, the Devil's Den, Club 888 and Ronnie Hawkins' Hawk's Nest before consolidating their line-up as a five-piece in 1965. When singer George Olliver from the Roulettes and revered Ronnie Hawkins guitarist Domenic Troiano climbed aboard, they rechristened themselves the Mandala and got ready to take Toronto by storm.

With an aggressive manager shovelling up the hype and a shtick that included strobe lights and matching pinstripe suits, the band would whip enthralled teenagers into a frenzy, especially with Olliver's messianic command of the microphone, a sort of pasty white incarnation of Wilson Pickett and James Brown. A series of gigs at the Whiskey a Go Go in Los Angeles in late 1966 caused quite a commotion out west, and a high-profile slot back home at the Hawk's Nest club with Bo Diddley landed the boys recording time in Chicago's Chess studios, where these excellent sides were cut.

Troiano's 'Opportunity' understandably became an instant classic, reaching number 3 on Toronto's influential CHUM-AM chart in February 1967. The infectious rhythm and funky guitar/organ dance carried the song right into the summer of that year - and no doubt many after that - though why it failed to dent the charts south of the border will forever be a mystery. On the flip, the slower 'Lost Love' saw the lads having soaked up a little of Chitown's languid northern soul and being all the better for it.

However, the strains of constant gigging, including several stints in New York, and the paltry $40-dollar-a-week salaries they were forced to live on, led a frustrated Olliver to jump ship, to be replaced by Roy Kenner before the recording of the Mandala's sole LP, Soul Crusade, in the spring of 1968. Their final seven-inch ('You Got Me' / 'Help Me') showed that the band still had the bait, but the public wasn't biting, and by June of 1969, the Mandala were fodder for the history books.
Suggestions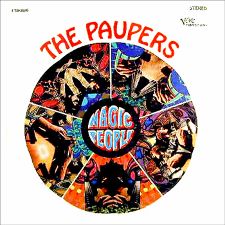 The Paupers
Magic People
Verve Forecast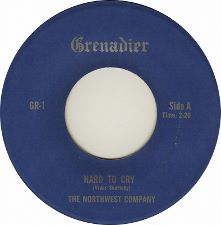 The Northwest Company
Hard to Cry b/w Get Away from It All - 7"
Grenadier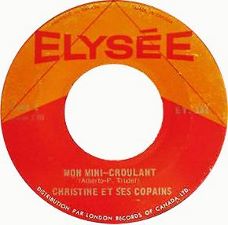 Christine et Ses Copains
Mon mini-croulant / Parce que je suis petite - 7"
Elysee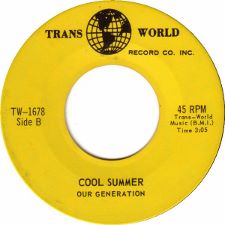 Our Generation
Out to Get Light / Cool Summer - 7"
Trans-World