Rings and Things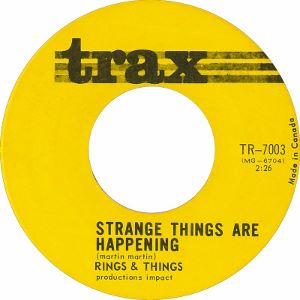 To Me: To Me: To Me / Strange Things Are Happening - 7"
Trax - 1968


Michael Panontin

Martin Hillman had his fingers in a number of pies back in the day. He left his native Montreal in the late 1950s to pursue his singing dreams down in the U.S. There, as Marty Hill, he recorded a half-dozen singles for Columbia, ranging from the flaming rock and roll of 'Red Lips' (1961) to the deliriously downtrodden 'The Lonely Man (That's Me)', a 1963 country record that was also issued in Canada and Australia.

By 1966, Hillman had made his way back up north to Quebec and had essentially reinvented himself as Martin Martin, pop Svengali extraordinaire. The next couple of years would prove to be the high point of his entire career, with the enterprising Martin writing and producing songs for the likes of the Sceptres, Mini Robin and the Marble Hill, as well as issuing some records of his own, including the goofy 'Say Shalom', a mostly forgettable piece of Jewish kitsch that managed to find its way into a number of international markets.

But the record for which he is best remembered today - outside of a few weddings in Brooklyn, I suppose - is a groovy popsike seven-inch by Rings and Things, a studio band that released just one single in their brief existence. That disc, a catchy Mamas and Papas sing-along called 'To Me: To Me: To Me' with the whirling, acid-tinged 'Strange Things Are Happening' on the flip, was first issued in Canada on Martin's tiny Trax label, an extremely short-lived concern with only three releases to its credit.

Strangely, things were not happening up here in Canuckistan, and 'To Me: To Me: To Me' sank like a stone. Undaunted, the enterprising producer decided to lease the songs internationally to Fontana, who wisely switched the sides and issued 'Strange Things Are Happening' in the U.K. just as swinging London was turning into freaky London. There is also a beautifully sheathed Dutch edition out there and - allegedly, says the internet - another picture-sleeved Italian one.

'Strange Things Are Happening' likely never charted - it was probably a little cheesy for hip Londoners at the time - but the song did get a bit of a rebirth in the paisley 1980s when it was included on Bam Caruso's excellent The 49 Minute Technicolour Dream comp. Sweden got the memo, it seems, as one nostalgic YouTube poster described 'Strange Things Are Happening' as "the big hit in our gang of mods-morphing-into-longhairs in Lund in the mid-eighties".
Suggestions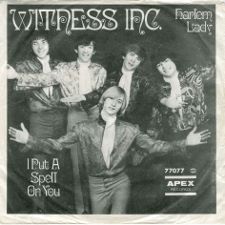 Witness Inc.
Harlem Lady / I Put a Spell on You - 7"
Apex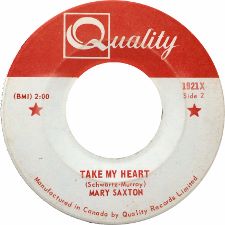 Mary Saxton
Sad Eyes / Take My Heart - 7"
Quality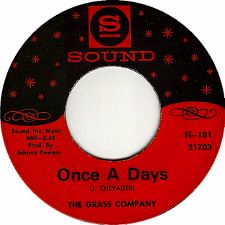 The Grass Company
Once a Days / Once a Child - 7"
Sound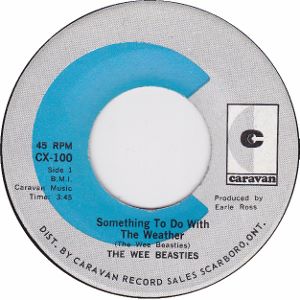 The Wee Beasties
Something to Do with the Weather / The Cherry Tree - 7"
Caravan