The One Way Street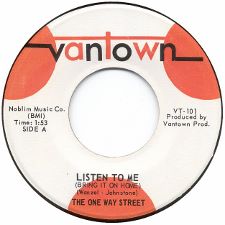 Listen to Me (Bring It on Home) / Tears - 7"
Vantown - 1967


Michael Panontin

The One Way Street got started in 1966, which for those few keeping track was the year Vancouver lost its innocence. The once-sleepy burg got its first whiff of the Haight-Ashbury freakfest in January of that year when the Jefferson Airplane played the Kitsilano Theatre and by the end of the summer it had played host to Big Brother and the Holding Company, Quicksilver Messenger Service and of course the Grateful Dead. It wasn't long before the lower mainland began nurturing a psych scene of its own, with bands like the Painted Ship, the Collectors and the One Way Street starting to fill the clubs.

The One Way Street was a five-piece consisting of singer Rick Wanzel, guitarist Doug Fairbairn, keyboardist Bob Hirtle, and a rhythm section of Greg Johnstone on bass and Jim Warren on the drum kit. Though they appear to have flown well under the radar at the time (with no mention of them ever having played at any of Jerry Kruz's popular Afterthought shows), they were certainly one of the first on the block to have a bona fide psych record on the shelves.

'Listen to Me' was recorded at the Vancouver Sound Recording Studio - allegedly in less than an hour - and was ready for the shops by January of 1967. Hirtle's groovy organ licks and Wanzel's moody vocals were just the ticket, it seems. By the second week of February, 'Listen to Me' found itself perched at the #16 spot on the CFUN-AM charts (and at #2 on their All-Canadian Top Ten just behind the Guess Who's 'His Girl'). Flip the record over and you have the equally fine 'Tears', an eerie tearjerker of a tune that conveniently cribs a riff or two from the Marketts' 'Outer Limits'. Curiously, an American release on the much larger Paula label (retitled as 'I See the Light' b/w 'Tears in My Eyes') somehow managed to chart in the Dallas area and was even erroneously included on Eva's 1986 LP Louisiana Punk Groups from the Sixties (Vol. 2).

Alas, the One Way Street only issued this one record and by 1968 the guys had pretty well called it quits. Both the Vantown and the Paula discs are quite sought after these days with mintish copies pushing up to the $500 range. Rarer still, though, is a curious edition on the Hama label, which has the anoraks over at the 45cat site edging closer and closer to blows as they debate whether it was a standard-issue pressing or a promo, Canadian or American, first issue or second.
Suggestions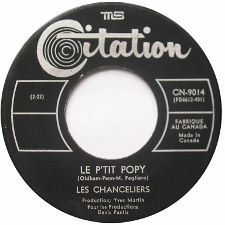 Les Chanceliers
Le p'tit popy / La generation d'aujourd'hui - 7"
Citation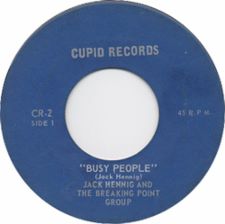 Jack Hennig and the Breaking Point Group
Busy People / Maybe Tomorrow - 7"
Cupid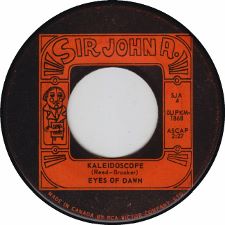 The Eyes of Dawn
Little by Little / Kaleidoscope - 7"
Sir John A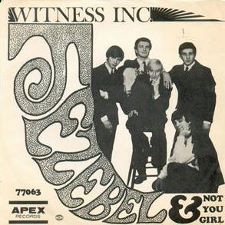 Witness Inc.
Jezebel / Not You Girl - 7"
Apex