For Keeps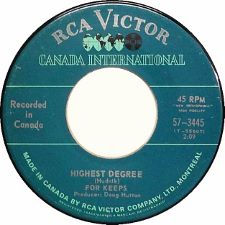 Morning Town / Highest Degree- 7"
RCA Canada International - 1967


Michael Panontin

Doug Hutton may be a forgotten man these days, but at one point in the 1960s, he had his fingers in a number of pies. The northern Saskatchewan native ran successful Calgary nightspots The Haunted House and Picadilly Square, promoted major concert tours across western Canada and even tried his hands at producing records.

One of his first endeavours in the latter field was a disc for the Saskatchewan band For Keeps, whose hopelessly obscure 'Morning Town' actually saw a couple of releases, one on the hyper-rare Chariot label and then (one presumes) a reissue on RCA Canada International. The topside is a rather lame piece of popsike and is probably better left at the bottom of the bin. But flip the disc over and the thrills really begin. The intriguing 'Highest Degree' sports an unusual chord progression and a curiously quirky rhythm - for a garage track that is - and thus is definitely worth the digging, even after all these years.

As for Hutton, his quarter-hour of fame would come a few years later while pursuing his love of Canadian history. "After I got out of the club business," he reveals in the August 11, 1973 edition of Billboard, "I cast about for something a little more creative, and got interested once again in [Louis] Riel. After three months of research with libraries, historians, and people like me with second-hand memories, I sat down on the bank of the South Saskatchewan River and wrote a song, 'Louis Riel, Louis Rebel'. It wasn't much of a hit, though it made some regional charts, and hit #4 in Calgary." That 1970 single would be followed in 1973 by Cantata Canada, a historical rock opera modelled on Jesus Christ Superstar, a production so grandiose ("overzealous" is how Hutton put it) that it sank like a proverbial stone upon release.
Suggestions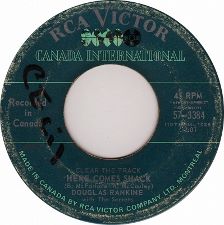 Douglas Rankine with the Secrets
Clear the Track Here Comes Shack / Warming the Bench - 7"
RCA Canada International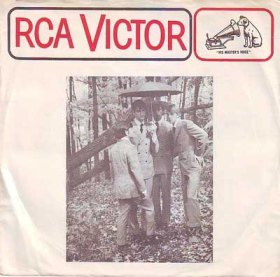 The Gentle Touch
Visitors Parking Only / One Way Ride - 7"
RCA Canada International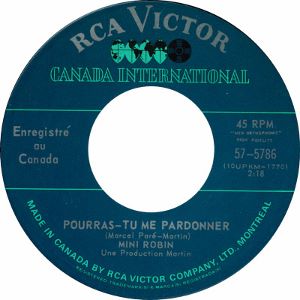 Mini Robin
Pourras-tu me pardonner / Personne - 7"
RCA Canada International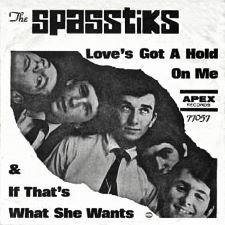 The Spasstiks
Love's Got a Hold on Me / If That's What She Wants - 7"
Apex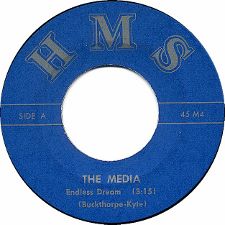 The Media
Girl, I Want You / Endless Dream - 7"
HMS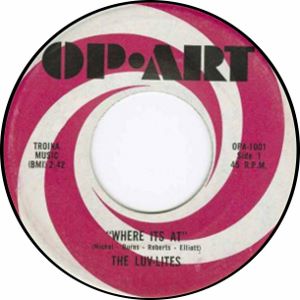 The Luv-Lites
Where It's At / Born in Chicago - 7"
Op-Art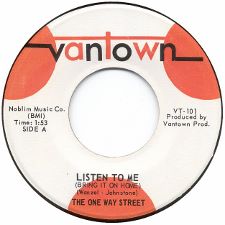 The One Way Street
Listen to Me (Bring It on Home) / Tears - 7"
Vantown