Strange Movies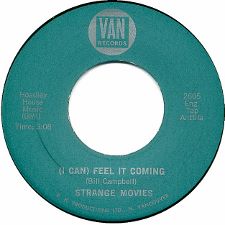 (I Can) Feel It Coming / What a Drag - 7"
VAN - 1969


Michael Panontin

The origins of Strange Movies can actually be traced back to the mid-sixties and the sunny British Columbia interior. It was there that a couple of long-forgotten bands, Jimmy and the Rebounds and the Urban Council, were kicking around the Kelowna area belting out sets filled with the top-40 hits of the day. It was also around that time that the first wafts of counter-culture started to blow in from northern California. Thus the nucleus of what would become Strange Movies began to form around drummer Don Burnett (from the Rebounds), singer Bill Campbell and guitarist Gerry Deshayes (from the Urban Council) and bassist Jim Wilson, who together had started dabbling in the more contemporary blues-based sounds of Paul Butterfield, Cream and John Mayall.

By the summer of 1968, the guys had already decamped to the much larger scene in Vancouver. They rented a house in the southern part of the city on Marine Drive and started gigging around town at places like The Big Mother, The White House and The Village Bistro, as well as at the Forum on the PNE grounds. But just as the group were starting to gain a bit of traction there, Wilson and Deshayes decided to quit, leaving just Campbell and Burnett to hold things together. Enter another fellow Kelowna musician, Dan Ferworn, who had only recently arrived in Vancouver with a band called Times Children. The final version of Strange Movies was now complete and, as the area's first true power trio, the three started wowing sell-out crowds all across the lower mainland.

In 1969, Strange Movies issued their only two singles, both for the tiny VAN label. The first of those, the hard-rocking '(I Can) Feel It Coming', is a revelation of sorts. Long lost to the sands of time, the song is an edgy, acid-tinged slab of late psychedelia that recalls the best of the band's west-coast contemporaries, like Moby Grape or Quicksilver Messenger Service, and is easily as good. Amazingly, for all its rarity, a near-mint copy of '(I Can) Feel It Coming' can still be found for well under two hundred bucks.

As luck would have it, a visiting club owner from Bermuda caught one of their performances and was impressed enough to offer the group a summer job as the house band at his bar in Hamilton called The Ace of Clubs. They returned from the island in the fall, no doubt tanned and financially flush, and actually flew back for at least one more stint. Unfortunately, the party was just about over for the boys, as not long after that - 1972 to be precise - Strange Movies decided to call it a day.
Suggestions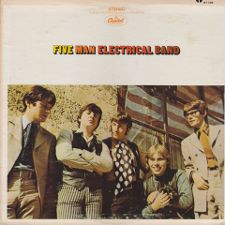 Five Man Electrical Band
Five Man Electrical Band
Capitol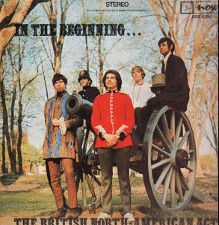 The British North-American Act
In the Beginning...
Now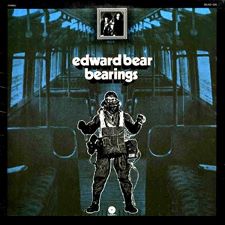 Edward Bear
Bearings
Capitol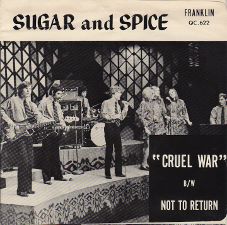 Sugar and Spice
Cruel War / Not to Return - 7"
Franklin