The Original Caste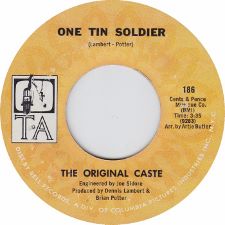 One Tin Soldier / Highway - 7"
T-A - 1969


Michael Panontin

As a child, Bruce Innes was something of a prodigy in his native Calgary, performing professionally at the tender age of eleven, with his father chauffeuring him to and from gigs and making sure that the young lad was always home by midnight. Later, while attending the University of Montana, Innes began his songwriting career in earnest as a member of the Big Sky Singers. In his final year there, he was even handpicked by blues legend Josh White to tour with him on guitar.

Innes eventually found himself back home in Alberta, strumming his songs in the tiny, though locally famous, coffee house called The Pig's Eye, sharing bills with the likes of David Wiffen and the very young Joni Mitchell (then still performing under her real name, Joni Anderson). By 1966, he had formed his own group with guitarist Bliss Mackie and bass player Graham Bruce, adding his future-wife, the silky-voiced Dixie Lee Innes (nee Stone) the following year.

The four made their way down to Los Angeles (at some point picking up Peter Brown and then later Joe Cavender to work the drum kit) and, as the Original Cast, issued a cover of Gordon Lightfoot's 'I Can't Make It Anymore' for the Dot label in 1968. That single may have failed to trouble any of the playlists at the time, but somehow it did manage to get the band signed to the recently established T-A imprint, which had the considerable financial heft of Bell Records behind it.

In September of 1969, mere weeks after those three days of peace and love in upstate New York, the Original Caste (with a gimmicky "e" tacked onto their name) released the record that would become their best-known work. 'One Tin Soldier', a schmaltzy, quasi-biblical allegory of two kingdoms bent on destroying each other over a coveted treasure that in the end is nothing but a stone bearing the inscription "Peace on Earth", would ultimately take on a life of its own for Innis and company.

Though the song reached a respectable #34 down in the U.S., its Canuck pressing (on Bell) was a top-ten smash up here, even scoring the top slot on Toronto's influential CHUM-AM chart. What's more, it was dug up by Hollywood a couple of years later, and a re-recorded version was used as the theme song to Tom Laughlin's countercultural hit movie Billy Jack. That rendition (by the American band Coven) would dent the charts at least a couple of times south of the border, first in 1971 to coincide with the film's initial run, and then again in 1973 when Billy Jack was rereleased. Other versions were to follow, including serious covers by Guy Chandler and then Cher, a parody by Roseanne Barr, and even a revved-up one by those goofball punks Me First and the Gimmie Gimmies.

By rights, that should have been it for the song - save of course for the occasional spin on retro radio stations - but in 2006, it caused a bit of a furor in the little village of Williamstown, just outside Cornwall (ON), when two parents objected to the song being sung at a local elementary school. When told of the kerfuffle, which stemmed from the song's alleged religious overtones, Innes weighed in, wisely urging everyone to "lighten up". "There's a lot worse things you can worry about than the lyrics to a pop song," he cautioned. "I don't think peace on Earth is a bad message to give children."
Suggestions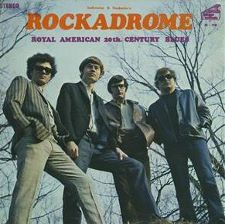 Rockadrome
Royal American 20th Century Blues
Sound Canada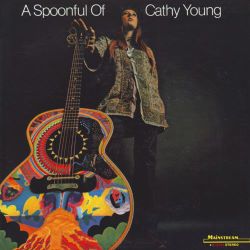 Cathy Young
A Spoonful of Cathy Young
Mainstream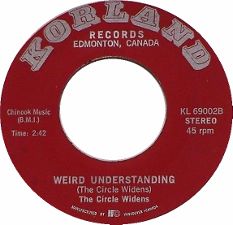 The Circle Widens
See About Dreamin' / Weird Understanding - 7"
Korland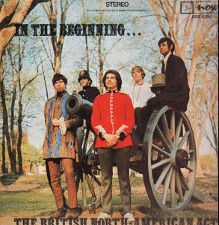 The British North-American Act
In the Beginning...
Now