Sugar and Spice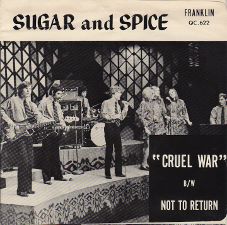 Cruel War / Not to Return - 7"
Franklin - 1969


Michael Panontin

Sugar and Spice's 'Cruel War' was a cash cow of sorts for Frank Weiner and his tiny Franklin label. The Winnipeg band's hokey version of Peter Yarrow and Neil Stookey's love-in-a-time-of-war ballad allegedly shifted some 23,000 copies across Canada, reaching the top spot locally and climbing to an impressive #31 nationally by January 1969.

Of course, for their manager, Michael Gillespie, this was all part of the plan. It was Gillespie who had engineered the break-up of a band called the Griffins so that guitarist Phil O'Connell, bassist Larry Mahler and drummer Kenn Richard could hook up with the talented Murphy sisters, a church-singing trio who were barely into their teens. After poaching guitarist John MacInnes and singer Geoff Marin from the Mongrels, he was ready to take the world - or at least southern Manitoba - by storm.

Gillespie's idea was to get Sugar and Spice some chart success first and only then introduce the group to local audiences. So the savvy svengali corralled the help of Weiner's Hungry I booking agency, local radio jock Doc Steen, TV host Bob Burns and Randy Bachman, who was already starting to look beyond the Guess Who for work as a songwriter and producer. It worked. By January 1968, their first single, a couple of songs penned by Bachman ('Not to Return' b/w 'I Don't Need Anything'), cracked the top ten up in the 'Peg.

More importantly, though, Sugar and Spice could now be marketed as "touring recording stars", with their live debut at the University of Manitoba's Winter Carnival netting them an almost unfathomable sum of $800...for one set! Weiner had even booked them for a lip-sync on Burns' Teen Dance Party show a few weeks before, thus ensuring that their U of M slot would be a sold-out success.

After a few personnel changes, the eight-piece Sugar and Spice obviously had their sights set on the lucrative market down in the States. But when their follow-up single, 'Day by Day' b/w 'It's Growing', flopped, they looked to the Murphys for inspiration, pulling out an old Peter, Paul and Mary chestnut that had been part of the girls' folk repertoire. In December 1968, they headed down to Kay Bank Studios in Minneapolis to record the vocals and strings and by early the following year Cruel War' was ready for release. With the Vietnam War in full swing and talk of U.S. draft dodgers trickling across the border, it didn't take long for the song to find its audience. By the end of January, 'Cruel War', was perched comfortably atop the Winnipeg charts and was doing surprising well nationally.

Weiner shopped the group around and managed to secure a release on the hefty White Whale label, who had scored a half-dozen hits with the Turtles and were obviously flush with the cash to promote an unknown band from Canada. The Winnipeg Tribune reported at the time that White Whale "immediately started a tremendous publicity drive aimed at making 'Cruel War' a hit throughout the world" and that "the record was released last Monday [January 27th, 1969] in Los Angeles and, already, it has received an impressive response."

Unfortunately, someone foolishly submitted the composer credits to 'Cruel War' as "public domain". Needless to say, Pete Yarrow, who co-wrote the song, was less than impressed with the infringement on his copyright and hinted at legal action. And so, after a phone call or two, 'Cruel War' was unceremoniously dropped from the label and was never again issued on any other label.

Sugar and Spice may not have known it at the time, but their proverbial downward spiral was now officially underway. In 1970, half the band bailed at one point or another, including two of the Murphy sisters (first Kathleen and later Maureen), which prompted a name change to the truncated Spice. They continued to release records, even scoring a minor hit in early 1972 with the double-sided 'Sweet Talking Woman' b/w 'Strawberry Wine'. But after a move to Toronto, a last act of desperation in hindsight, the band finally called it a career in February 1973, selling their tour bus in the process to an up-and-coming power trio called Rush.
Sugar and Spice
Suggestions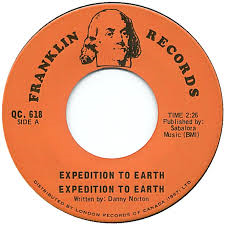 Expedition to Earth
Expedition to Earth / Time Time Time - 7"
Franklin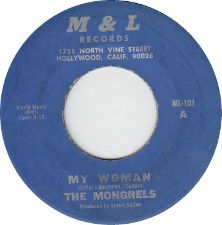 The Mongrels
My Woman / Sitting in the Station - 7"
Franklin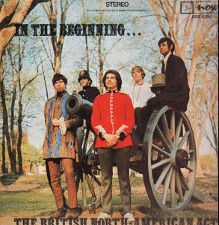 The British North-American Act
In the Beginning...
Now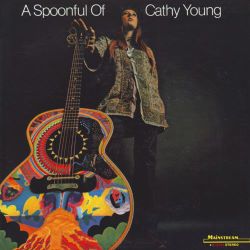 Cathy Young
A Spoonful of Cathy Young
Mainstream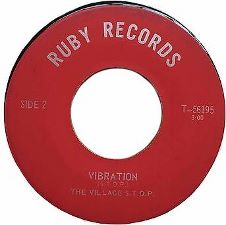 The Village S.T.O.P.
North Country / Vibration - 7"
Ruby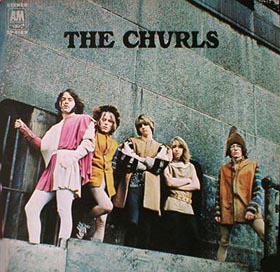 The Churls
The Churls
A & M / Quality