Garry Garnette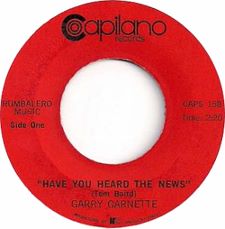 Have You Heard the News / Sick and Tired - 7"
Capilano - 1969


Michael Panontin

Garry Garnette's 'Have You Heard the News' is about as tough-to-find as a record can get these days. Its silky supper club soul has found its way onto the UK dance floors and that of course has punters scrambling for a copy...so much so in fact that even the crown prince of northern soul, Ian Levine, actually posted a message on one of Garnette's YouTube posts offering to buy a copy from him.

Equally frustrating is piecing together a bio of the elusive crooner. What we do know is that the British Columbia-based singer recorded as early as 1962, when he issued the Ricky Nelson-ish 'Captain of Love' as Garry Murphy with the Valentines. And that as late as 1983 he recorded a serviceable cover of Terry Stafford's 'Amarillo by Morning'. In between, there are posts of various recordings, some live in the clubs and others more professional sounding, mostly in the country/Elvis vein.

Which is why this little-known seven-inch comes as such a bombshell. Recorded on the equally obscure Capilano imprint and likely released sometime in 1969 (though this is mostly conjecture at this point), the excellent 'Have You Heard the News' seems to have it all: a twitchy backbeat, languid horns and a lovelorn Garnette mourning the loss of his beloved Joanie, now gone and married to another man.

Little wonder then that the diggers are all over this.

It's hard to say exactly how much this would go for at auction since the only documented sale out there in cyberspace is of a totally demolished G+ copy that went for US$180 back in 2013. A more recent thread on the UK-based Soul Source site had the record valued at upwards of 600 pounds. For Levine at least, there seems to have been a happy ending, with the well-known dee jay boasting in a 2017 blog post that "I FINALLY FINALLY got my own copy of the Garry Garnette single."
Suggestions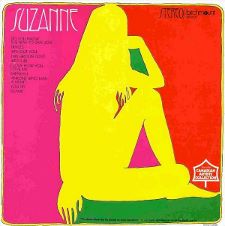 Suzanne
Suzanne
Birchmount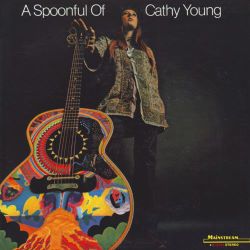 Cathy Young
A Spoonful of Cathy Young
Mainstream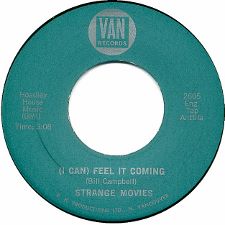 Strange Movies
(I Can) Feel It Coming / What a Drag - 7"
VAN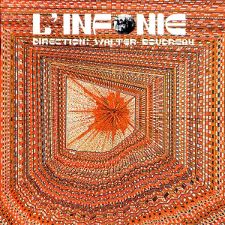 L' Infonie
Vol. 3
Polydor