Bobby Taylor and the Vancouvers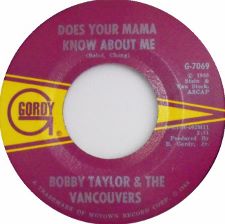 Does Your Mama Know About Me / Fading Away - 7"
Gordy - 1968


Michael Panontin

In his autobiography, Tommy Chong described the Calgary of his childhood as "more like Mississippi than California in the way that black people were treated." It was precisely in such an environment that Chong - half-Chinese himself - and three black men formed an r'n'b band called the Calgary Shades, no doubt in reference to their interracial makeup.

As the de facto leader of the group, Chong immersed himself in the music of Chuck Berry, Little Richard and Bo Diddley, and before long the Shades had become so popular that their gigs at the local Legion hall often ended in brawls, underage drinking and vandalism. And in a scene worthy of an eighties teen flick, Chong was actually hauled into a meeting with the mayor and the chief of police and told, without a hint of irony, that "all of Calgary thinks it would be a good idea if you and your band left town."

And so they did, and in 1961 the four found themselves gigging regularly on Vancouver's r'n'b-crazed east side. Still, it was a tough go for the guys and Chong, who was struggling to support his young daughter Rae Dawn, started booking acts at the old Alma Theatre in the city's west end in order to pay the bills. This was 1963, and Chong and company, now known as Little Daddy and the Bachelors, operated as the house band there, opening for big-name acts like Ike and Tina Turner and their red-hot review.

It was also during these years that Chong invited the talented Bobby Taylor, whom he had met in San Francisco, to take over singing duties for the group. With Taylor at the helm, the band - by now solidified as Taylor, Chong, Wes Henderson, Eddie Patterson, Robbie King and Ted Lewis - were the toast of the town, dubbing themselves Bobby Taylor and the Vancouvers in honour of their new home.

From there, the trajectory was just about straight up. One night in late 1966, the Supremes were in town performing, and Mary Wilson and Florence Ballard happened to catch one of the Vancouvers' sets at Chong's club, The Elegant Parlour. As Chong tells it, the girls were so taken by their set, which truth be told consisted for the most part of Motown covers, that they promptly rang up Berry Gordy about their new discovery. The boys were of course whisked off to Detroit, where Gordy had them record a number of songs, one of which was Chong's 'Does Your Mama Know about Me', a languorous, string-filled number that reached a respectable #29 on the Billboard charts in 1968.

But even more interesting are the song's topical lyrics. Bobby Taylor was a black man singing about meeting his girlfriend's family at a time when interracial relationships were hardly the norm. ("Does your mama know about me? / Does she know just what I am? / Will she turn her back on me / or accept me as I am?"). If we are to believe Chong's claims, 'Does Your Mama Know about Me' had a profound effect on Motown Records, nudging it in a more defiant, topical direction.

"Before we were in Motown," he writes, "they were always singing about 'My Girl' and the girl who's gone, all about loving girls. And then I came in there with 'Does Your Mama Know about Me' and it changed Motown's course, you know. And all of a sudden, the Supremes got 'Love Child' and the Temptations did 'Papa Was a Rolling Stone' and all those socially, what do you call it, social awareness. And then Marvin Gaye did 'What's Going On' and that took it even further."

'Does Your Mama...' found its way onto the Vancouvers' self-titled album, for which they toured extensively throughout 1968, sometimes sharing bills with Smokey Robinson and the Miracles. In fact, it was on one of those tours down in the Deep South that Chong took on Jim Crow himself. At one show, he remembers, "little black kids weren't allowed to go to the venue to see Smokey...literally. And I was the only one that protested." Just like a modern-day Canuck abolitionist, Chong took matters into his own hands. "I went to the owner, you know, the club owner, and said, 'You can't do that.' And the next thing you know, they were allowing the black kids in. Because all it took was a voice. Someone to remind them, 'Hey, this is America. You can't do that'."

Several other singles charted for the band that year, most notably 'I'm Your Man' and 'Malinda' (which like all their records were issued on Gordy in the States but on Tamla Motown up here in Canada). Bobby Taylor and the Vancouvers disbanded not long after that allegedly over Chong's desire to cut King, Patterson and Lewis out of the royalties and rehire them as simply session musicians.

But things would have likely gone up in smoke anyway, as Chong, who was given his first joint way back in the 1950s in Calgary, had much...er...'higher' ambitions, shall we say. "1967 was a great year on the road for me for many reasons," he revealed. "One night in Chicago when we weren't playing a gig, I wandered into an improvisational comedy club called Second City and the experience changed my life. I was mesmerized to the point of obsession and began going to every improv theatre club I could find."

From there it was all academic as Chong and his new partners, Cheech Marin and Mary Jane, launched a comedy career so successful that the long and relatively fruitful recording career of Chong's early days remains unknown to all but the most diehard record geeks.
Suggestions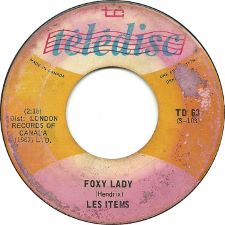 Les Items
Foxy Lady / J'aimerais tant te revoir - 7"
Teledisc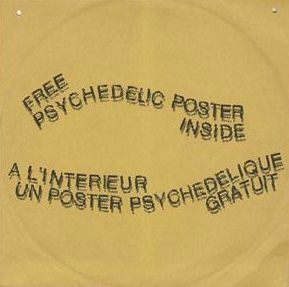 Intersystems
Free Psychedelic Poster Inside
(independent)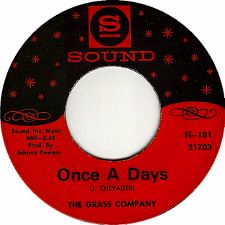 The Grass Company
Once a Days / Once a Child - 7"
Sound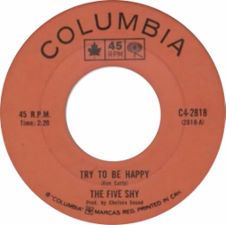 The Five Shy
Try to Be Happy / Saints and Angels - 7"
Columbia