Jack Hennig and the Breaking Point Group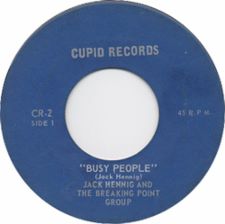 Busy People / Maybe Tomorrow - 7"
Cupid - 1967


Michael Panontin

Edmontonian Jack Hennig, a blond hunk of a singer who kept good ol' Albertans hopping throughout the seventies with his country and western sounds, actually had a secret psychedelic past that few knew about. Stories abound on the 'net about diligent cratediggers who have managed to unearth copies of his little known Cupid sides as Jack Hennig and the Breaking Point Group. The second of those records, the tantalizingly obscure 'Busy People', is a tasty sitar-tinged slab of popsike with guilt-tripping lyrics like "You see those who are preachin' / They're the ones who need teachin' / They're the ones who should think of what they say". The flipside is even better. The more dance-friendly 'Maybe Tomorrow' takes a groovy organ lick and tops it with the sort of spirited singing that might have even done the Grass Roots proud.

At some point in the late sixties, Hennig and the band reached their own breaking point, with Hennig emerging in 1970 with a solo effort on Quality ('Pappa Told Me' b/w 'Brink Of Temptation'), followed by a few singles on the Damon label and LPs on Birchmount (Canadian Breed and Lisa Brown) and Boot (Jack Hennig Sings). And for what it's worth, mere VG copies of 'Busy People' are pushing the $300 mark these days, so those of you out on the prairies might want to listen to your wives and clean out those attics and basements ASAP.
Suggestions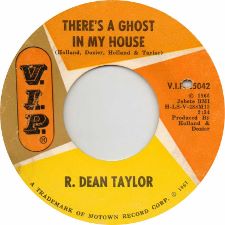 R. Dean Taylor
There's a Ghost in My House / Don't Fool Around - 7"
V.I.P.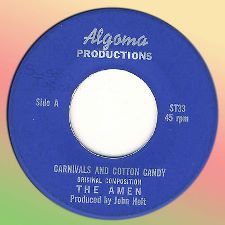 The Amen
Carnivals and Cotton Candy / Peter Zeus - 7"
Algoma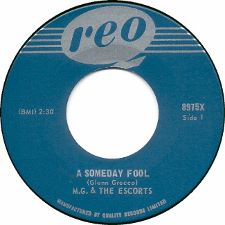 M.G. and the Escorts
A Someday Fool / It's Too Late - 7"
Reo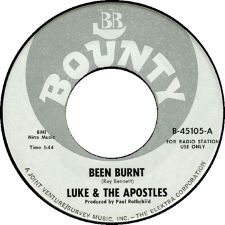 Luke and the Apostles
Been Burnt / Don't Know Why - 7"
Bounty