R. Dean Taylor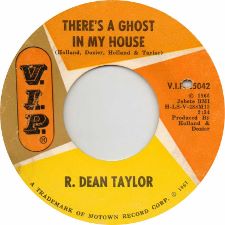 There's a Ghost in My House / Don't Fool Around - 7"
V.I.P. - 1967


Michael Panontin

R. Dean Taylor started singing at various open-air country and western shows when he was just 12 years old, and by 21 the Toronto native had already issued his first record, the pop/rockabilly floor shaker 'At the High School Dance'. Several more releases followed on the Barry and Mala labels, including the wimpy, Ricky Nelson-inspired 'I'll Remember', which managed to tweak the CHUM-AM charts in 1962, rising to a respectable #23 that year. But it was a fortuitous phone call from a friend in Detroit that would change Taylor's luck forever. After eying a newspaper ad for the still newish Motown label, he told Taylor that he could arrange a meeting with the red-hot team of Holland, Dozier and Holland, who as it turned out were impressed enough with Taylor's chops to sign the young Canuck as a resident writer and artist.

Taylor started his apprenticeship under the wings of the older Holland brother. "Eddie was a fantastic writer. He could write from a woman's point of view as well as a man's, and I really learned a lot from working with him," he recalls. "(And) seeing the innovative way Brian and Lamont used new sounds in their productions, such as footstomps on an old board as the intro on (the Supremes') 'Where Did Our Love Go' and many other gimmick sounds, was an inspiration." In fact, Dean's own songwriting credits with Motown would later include the likes of the Supremes' 'Love Child', Brenda Holloway's 'Just Look What You've Done' and the Mynah Birds' gem 'It's My Time' among many others.

In 1965, though, Dean issued his own record, the topical 'Let's Go Somewhere', an earnest but musically lame piece of social commentary that rightfully tanked upon release. But late the following year, he recorded the song that etched his place into the British musical history books. The eerily titled 'There's a Ghost in My House' originally came out on the V.I.P. label in April, 1967, a month when the Detroit hit machine was firing on all cylinders, so unfortunately for Dean his take on that classic Motor City beat couldn't elbow its way onto a Billboard chart already crowded with hits like 'Bernadette', 'Jimmie Mack', 'The Happening' and 'Gonna Give Her All the Love I've Got'.

Dean of course would eventually turn to his country roots for that elusive big hit, the poignant 'Indiana Wants Me', which took the #1 spot on both sides of the border with the push of Detroit's WKNR and Windsor, Ontario's CKLW radio stations. By all rights, the story should have ended there, with the one-hit wonder getting fat on that yearly royalty cheque and the occasional casino show. As luck would have it, English deejay Ian Levine dug up 'There's a Ghost...' and spun it up at the Blackpool Mecca in 1974, just as all those speed-addled Brits were reinventing the genre as northern soul. Levine demurred somewhat when asked about it on the DJHistory site recently. "For all my sins, I broke the R. Dean Taylor," he said. "('There's a Ghost in My House'), really, is a nasty white pop record on Motown. I suppose I should be ashamed of it...it doesn't sound black." But for the rest of the country that hardly mattered, as Motown reissued it with a new b-side and watched it soar all the way to the #3 slot that year. And the song seemed to take on a life of its own, dredged up a decade later by the British Electric Foundation in 1982, the Very Things (1986), and the Fall (1987), as well as more recently by that old codger Graham Parker on his Loose Monkeys outtakes LP.
R. Dean Taylor
Suggestions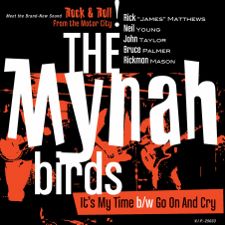 The Mynah Birds
It's My Time / Go On and Cry - 7"
V.I.P.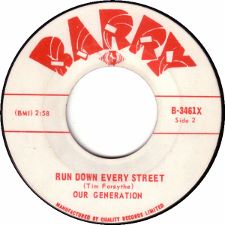 Our Generation
I'm a Man / Run Down Every Street - 7"
Barry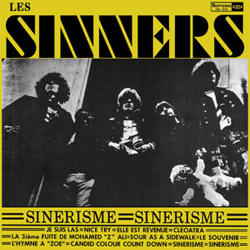 Les Sinners
Sinerisme
Rusticana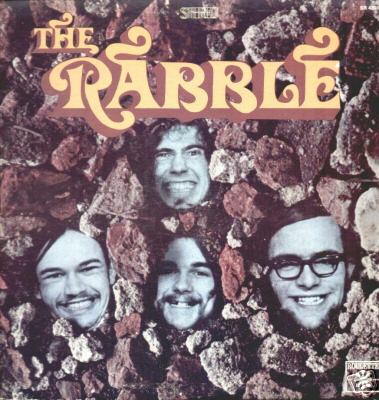 The Rabble
The Rabble
Trans-World (Canada)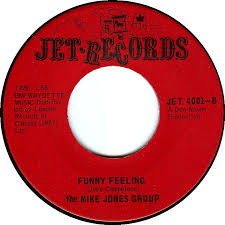 The Mike Jones Group
Each and Every Day / Funny Feeling - 7"
Jet