The Diodes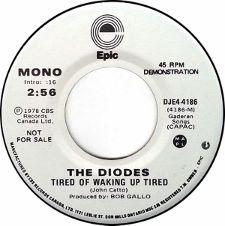 Tired of Waking Up Tired / Child Star - 7"
Epic - 1978


Michael Panontin

In a perfect world the Diodes would have had a couple of top-10 hits, a few world tours and a best-of compilation stocked in the front racks of HMV shops. Unfortunately, Canada in the late seventies was not that world. Despite getting up and running in late 1976, opening Toronto's infamous Crash 'n' Burn club in the magical summer of '77, and even issuing an album full of taut two-minute punk around the same time as the Sex Pistols' Never Mind the Bollocks, the Diodes' name these days would probably evoke blank stares from your typical record tosser.

Often dismissed as pseudo-punks for their power-pop tinges and careerists for having the temerity to sign with a major label, the Toronto quartet of singer Paul Robinson, guitarist John Catto, bassist Ian Mackay and drummer John Hamilton issued their first great record in the fall of 1977, a scything version of the Cyrkle's 'Red Rubber Ball' that cracked the top 100 on the Canadian singles charts.

But though their debut LP The Diodes managed to shift an impressive 7,000 copies, the suits at CBS had expected better. What's more, the band met resistance on nearly all fronts, with radio refusing to play the album and record stores even refusing to stock it. As a punk band, the Diodes never really stood a chance. And so, with Toronto's punk scene degenerating into yobbism and with CBS pushing them in a poppier direction, the guys entered Eastern Sound studio to record what would become their best-known track.

'Tired of Waking Up Tired' was an almost instant success. The odd coupling of weary vocal and bouncy organ charted all over U.S. alternative radio - as an import-only release! - and reached a healthy #36 on Sounds magazine's Best of 78 chart. But it is a minor miracle that the record was ever released at all. As Hamilton told Liz Worth in Treat Me Like Dirt , "We literally had from eight to nine in the morning to mix this goddamn single," he recalled, "and Liona Boyd was in the other room coming in with a thirty-piece orchestra. At ten to nine we still didn't have it." And if you ever wondered about that strange whoosh that opens the song, well..."the engineer finally got a single-edge razor blade and cut the middle part of the single out, which was the solo. Literally cut it out, three and a half feet of tape, put it in at the beginning and to disguise the cut, he put his hand on the wheel and started it up and it gave it that drag and you get the vrooooooom."

That was about as good as it got for the Diodes. After ripping them off of thousands of dollars in overseas sales, CBS unceremoniously dumped the band just before Christmas of 1978. What's worse, the group's second LP, Released, was in fact not released south of the border and a rightfully disillusioned Hamilton left to form the Secrets with three members of the Viletones. And after a third album, 1980's indie Action/Reaction, Catto and Robinson left for what they perceived to be friendlier skies in England, but by 1983 the Diodes were as good as done.
Suggestions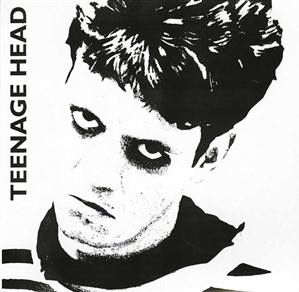 Teenage Head
Picture My Face / Tearin' Me Apart - 7"
Epic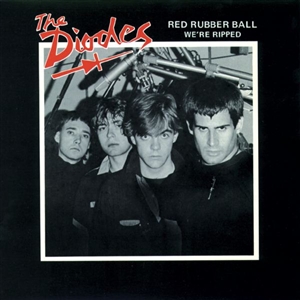 The Diodes
Red Rubber Ball / We're Ripped - 7"
Columbia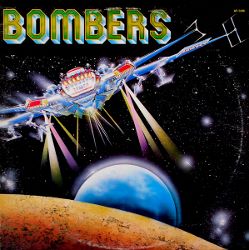 Bombers
Bombers
Telson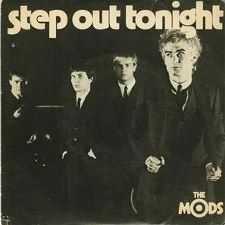 The Mods
Step Out Tonight b/w You Use Me - 7"
Mod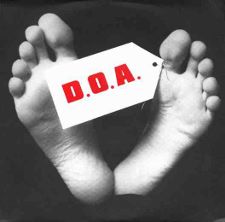 D.O.A.
The Prisoner / 13 - 7"
Quintessence