The New Wing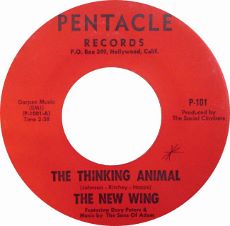 The Thinking Animal / My Petite - 7"
Pentacle - 1967


Michael Panontin

The fertile late-sixties Alberta scene saw a number of bands head south to record at recognized American studios. That list would include Wes Dakus and the Rebels, Barry Allen, Happy Feeling and the Gainsborough Gallery, all of whom trekked down to Norman Petty's famed New Mexico studio. It was around that time that the Edmonton five-piece the Sons of Adam made their way down to California to record a single for Gary Paxton's newly formed Pentacle label. The inveterate songwriter, producer and engineer had had a string of successful hits for the likes of the Hollywood Argyles, Bobby "Boris" Pickett, the Association and Tommy Roe, but had recently quit that scene for the dusty interior city of Bakersfield to pursue his love of country music. It was there in a converted bank building that he hooked up with singer Davy Peters, guitarist Henry La Liberte, keyboardist Al Wilson, bass player Doug Policha and drummer Leonard Saidman to record this long-forgotten popsike gem.

Of course, with guitar god Randy Holden's other Sons of Adam filling the California underground with their blistering 'Saturday's Son' and then later with the (post-Holden) 'Feathered Fish', the first order of business was a change of name. Wilson told Raymond Biesinger's indispensable website Fifteen.ca, "When we went to L.A. to record with Gary Paxton in 1968, John Ede had left the band and Davey Peters took his place. Paxton then changed our name to the New Wing. We hated it, but stayed with him in the States until 1970." Wilson's memories aside, 'The Thinking Animal' was probably issued in late 1967 (radio station KRLA's magazine The Beat featured what appears to be a full-page ad for the single in their November 4th, 1967 issue). That groovy ode to adolescent self-reflection, or was it self-delusion ("I'm a thinking animal / I've got myself convinced I'm really wonderful") tanked upon release, and is thus devilishly tough to find these days. An equally cheery version was recorded around that time by Eternity's Children, another of Paxton's concerns, but that recording and its accompanying LP Timeless was oddly only issued in Canada the following year.

The New Wing would try again in 1968 with Paxton, this time with the fuzz box cranked up a bit on the funkier 'I Need Love'. And though that scorching track was unearthed as early as 1980 on the first Boulders compilation, it is the sunshiny 'The Thinking Animal' that warms the hearts of soft-pop collectors around the world.
Suggestions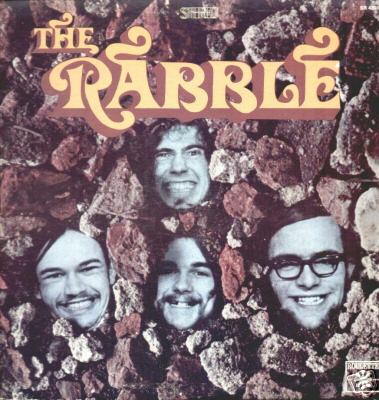 The Rabble
The Rabble
Trans-World (Canada)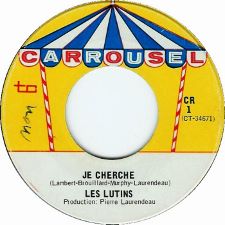 Les Lutins
Je cherche / Elle n'a rien compris - 7"
Carrousel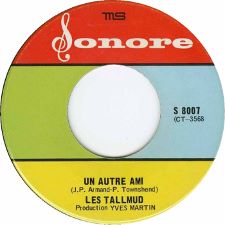 Les Talmud
Avoir raison / Un autre ami - 7"
Sonore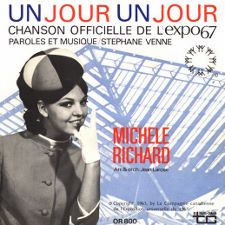 Michele Richard
Un jour, un jour / Hey Friend, Say Friend - 7"
Trans-Canada