La Revolution Francaise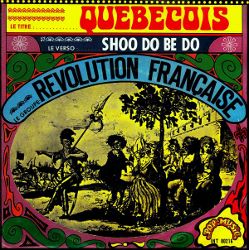 Quebecois / Shoo-Doo-Bee-Do - 7"
Revolution - 1969


Michael Panontin

After quitting Les Sinners in October of 1968, singer Francois Guy teamed up with Les Jaguars guitarist Jean-Guy Cossette to form the ominously titled La Revolution Francaise. With one-time Sinners Georges Marchant and Louis Parizeau heading up the backfield, the four got to work quickly, releasing a single, 'Pierre-Paul Ladouceaur', b/w 'Isabelle' and an album, C.Cool, for Tony Roman's tiny CANUSA imprint. Both records sold relatively well in Quebec, but it was of little consequence as Marchant, Cossette and Parizeau all abandoned ship soon after (with Cossette and Parizeau reforming Les Sinners with new singer Alain Jodoin). Undaunted, Guy rebooted the band with former Trixie and the In-Mates guitarist Angelo Finaldi and ex-Les Merseys drummer Richard Tate for what was essentially La Revolution Francaise 2.0.

Meanwhile, things were heating up politically in the province. That gruff, chain-smoking separatist Rene Levesque had recently given the Liberals the kiss-off and set about uniting separatist forces around his hard-line Mouvement souverainete-association (MSA). The very same month that Guy left Les Sinners for La Revolution Francaise, Levesque merged the MSA with the older Rassemblement pour l'independance nationale to form the Parti Quebecois. More sinister forces were also at play. The PLO-trained Front de liberation du Quebec set off a powerful bomb in the Montreal Stock Exchange in February the following year, injuring 27, and followed that by brazenly placing another one in a toilet at the home of Montreal's mayor Jean Drapeau.

It was in just such an environment - with Quebec's francophones tipsy on the prospects of forming their own country - that La Revolution Francaise recorded what would become the province's top-selling single that year. The buoyant 'Quebecois', with its trippy, almost woozy guitar and that stirring, feel-good chorus of "Quebecois / Nous sommes Quebecois / Le Quebec saura faire / S'il ne se laisse pas faire", shifted some 100,000 copies that year. Of course, as a call to arms, 'Quebecois' straddled a fine line, seeming as cloying as it was candid. No matter, though. The record filled the airwaves that summer, for a time even supplanting Gilles Vigneault's 'Mon Pays' as the province's unofficial national anthem. And though Guy and his Revolution Francaise were pretty well finished by 1972, the embers of nationalism that they helped stoke would catch fire and burn for many years to come.
Suggestions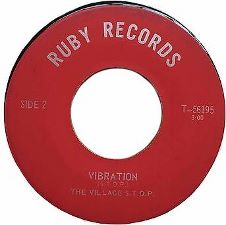 The Village S.T.O.P.
North Country / Vibration - 7"
Ruby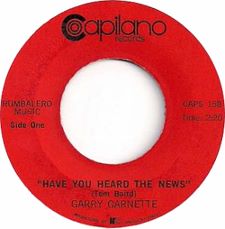 Garry Garnette
Have You Heard the News / Sick and Tired - 7"
Capilano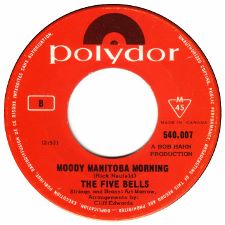 The Five Bells
Big City / Moody Manitoba Morning - 7"
Polydor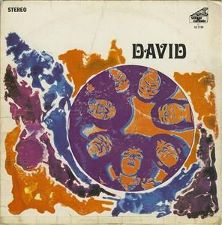 David
David
Sound Canada