The Adanac Reply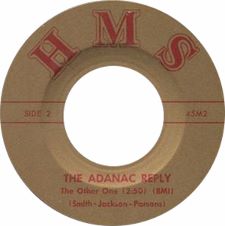 What Would It Be Like? / The Other One - 7"
HMS - 1968


Michael Panontin

Guitarist Thom Nelson originally formed the Nocturns in Calgary in 1960, and like many a budding rock star at the time, plied a Shadows-influenced brand of instrumental rock and roll. It wasn't until about five years later that the more psych-garage sounds of the Adanac Reply started to take shape. Singer Pat Parsons recalls, "I was in the Canadian army and got out in Calgary and I wanted to join a rock group. It was the Nocturns. I joined around 1964 handling vocals and percussions, with Thom on lead, Wayne Janz on bass, Larry Schaffer on rhythm guitar and Skip Mountain on drums, though Skip would later leave to join the 49th Parallel and was replaced by Henry Brander."

As the newly christened Adanac Reply, the five toured much of western Canada from Saskatchewan to British Columbia, winning battle of the band contests in Kimberley and Penticton, B.C. in 1966, and scoring a third prize in an international one the following year in Nelson, B.C. With a reputation as local freaks starting to stick ("We did drugs and we were always getting busted by the police for our outrageous behavior") and with all those other accolades to bolster their confidence, the guys entered a studio up in Edmonton, taking the better part of the day to record their now devilishly tough-to-find seven-inch, 'What Would It Be Like?'. Parsons explains, "I do not recall right now what the name of the studio was, but it was recorded in just one day. It took most of the day and late into the night before we had to go. I do remember it got some airplay early in the morning, at 3 am or so. I stayed up one night to listen but that was about it."

Alas, things started to burn up just a few months after the release of 'What Would It Be Like?'. As Thom Nelson tells it, "We developed a rift as to the musical direction the band should take. It was three against three and the sponsoring radio station, Calgary's CKXL, told us that the name Adanac Reply would go to the first threesome to put together a "working" band. With a new drummer and keyboardist, Pat, Wayne and I continued throughout the summer of '69 until Wayne and I left the band business for good that September." Today, only the grizzled Parsons still flies the flag in the music biz. Having long since relocated to Florida, and now known as Pateh Parsons, the inveterate hippie still paints, composes and strums for peace while fronting various roots-based bands in the Gainsville area.
Suggestions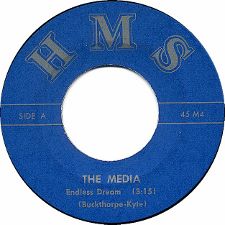 The Media
Girl, I Want You / Endless Dream - 7"
HMS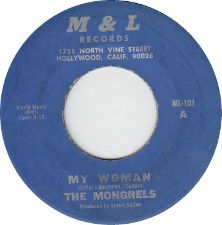 The Mongrels
My Woman / Sitting in the Station - 7"
Franklin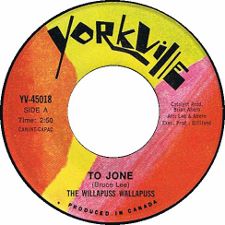 The Willapuss Wallapuss
To Jone / Sacrificial Virgin - 7"
Yorkville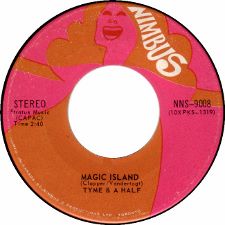 Tyme and a Half
It's Been a Long Time / Magic Island - 7"
Nimbus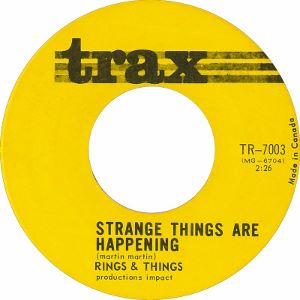 Rings and Things
To Me: To Me: To Me / Strange Things Are Happening - 7"
Trax