Land of Giants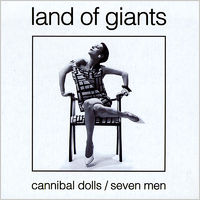 Cannibal Dolls / Seven Men - 12"
AV - 1982


Michael Panontin

When Mark Wonnacott returned to Toronto from the U.K. in 1981, the original '77 punk blow-up had more than fizzled, and in its stead was a growing fashion-forward, gay-friendly, middle class new wave scene centred around clubs like Domino and Nuts and Bolts. The racks over at tiny Record Peddler on Queen East were stacked with records by Ultravox, OMD, John Foxx and Japan, while the then-edgy CFNY-FM listed Simple Minds' Sons and Fascination as its top album of the year.

Wonnacott assembled a team of knob twiddlers that consisted of Henryk Jesiak and John Tucker, and after going through a handful of singers, landed the warbly Anya Varda. As Wonnacott told online mag Neon Velt in 2007, until Varda stepped in, Land of Giants was on a decidedly more romantic path, "As we started recording (our first songs), I realized that it made far more sense to get someone else to sing them. My delusions of a sort of Bryan Ferry grandeur were proving unfounded. That's when Anya became part of the band."

Those songs would become the long-forgotten Cannibal Dolls / Seven Men 12", a record that received considerable play upon its release, but that fell far off the precipice of fame during the nineties and noughts. The clinical, robotic beats proved just the thing for Toronto at the time, though it was still a slog to get the record played at all. "I did a fair bit, dragging boxes of records to various stores to sell on commission, and getting the managers to call if they had wall space for a display. In the end, we even got some imported into Germany by Polydor, who heard of us through a couple of guys who had a DJ distribution business in Toronto. I had been buying records from them and we got talking, and next I knew they wanted 200 copies to send to Germany based on a review in Guerrilla Beat. They even paid up front - which was unusual."

Still, for a band that never actually played live, that must have seemed like quite a feat. And as if that weren't enough, with the record starting to fetch serious cash on the internet, the band managed to get the remastered digital version into the hands of the good folks over at Pitchfork, who lavished their purple praise all over it, scoring it a healthy 8.2...after all these years.
Suggestions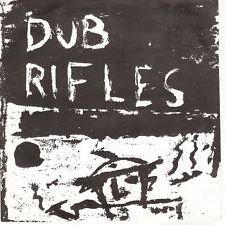 The Dub Rifles
No Town, No Country EP - 7"
Notown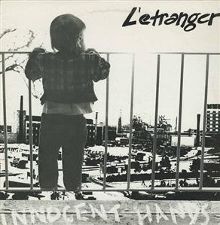 L'Etranger
Innocent Hands - 12" EP
Ground Zero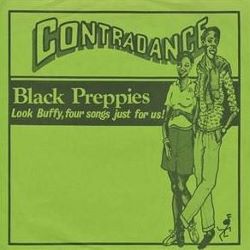 Contradance
Black Preppies EP - 7"
Dancing Note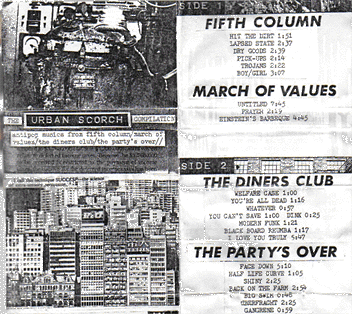 Urban Scorch Compilation
(various artists)
Some