The Shags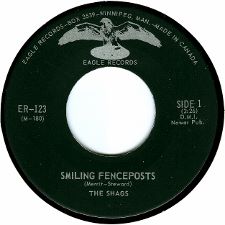 Smiling Fenceposts / Dr. Feel-Good - 7"
Eagle - 1967


Michael Panontin

The Shags were part of the hopping mid-to-late-sixties rock and roll scene in southern Manitoba that included, in addition to the obvious Guess Who, groups like the Quid, the Deverons, the Jury, the Fifth, the Mongrels and Expedition to Earth, to name but a few.

The Shags were already playing in community centres and high schools around Winnipeg by the time a teenaged guitarist named Greg Leskiw had decided to leave his home in sleepy Shilo, Manitoba for the bright lights of the big city. Leskiw may have come from the wheatfields, but he was certainly no bumpkin musically. His father was a talented jazz musician around those parts, and so while everyone else was fingering Beatles chords and Shadows riffs, Leskiw was cutting his teeth on more sophisticated fare.

"My roots weren't in rock 'n' roll," he would tell John Einarson. "My dad taught me jazz chords, so I had learned augmented, diminished, sevenths, minors and how to play all over the fretboard. He taught me how to play in B-flat and E-flat, which were the horn keys, and a lot of those old songs were written in those keys."

By 1966 the Shags - now Leskew with singer/guitarist Stuart Adams, bass player Bill Merritt and drummer Clive Perry - were starting to gather a sizeable following around town. The addition of John Lidgey on keys added a hipper, more psychedelic element to their sound and that managed to attract the attention of Wes Nowosad, whose Eagle label had already issued a handful of records, including the Quid's Them-inspired corker 'Crazy Things'.

By late spring the following year, the Shags had a record of their own in the racks, the groovy, if a tad amateurish, 'Smiling Fenceposts', with its messy mix of swirling organ, lithe vocals and crusty guitar. The boys even garnered a line or two in the May 27, 1967 issue of Billboard with the announcement that "Winnipeg-based Eagle Records has two new releases, introducing the Shags with 'Smiling Fenceposts' and 'Dr. Feel-Good' and the Good Feeling with 'Tale of a Man' and 'Good Feeling'".

The band didn't really stick around long enough to gain any traction from 'Smiling Fenceposts'. For one, they had already changed both name and personnel by the end of the year, issuing one single on Franklin as the Jamieson-Roberts Device. But Leskiw's musical pedigree would ultimately serve him well. The talented guitarist got the call-up to replace Randy Bachman in the Guess Who in 1970 and then went on to record a couple of LPs as Mood Jga Jga with Merritt in the mid-seventies. In the following decades he would operate Vox Pop Studios, where he recorded such notables as the Crash Test Dummies and the Blue Meanies. Today Leskiw is widely regarded as one of the elder statesman of Winnipeg rock and roll.
Suggestions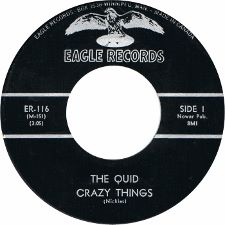 The Quid
Crazy Things / Mersey Side - 7"
Eagle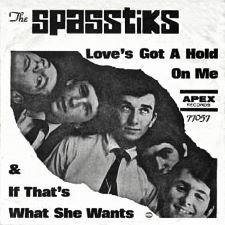 The Spasstiks
Love's Got a Hold on Me / If That's What She Wants - 7"
Apex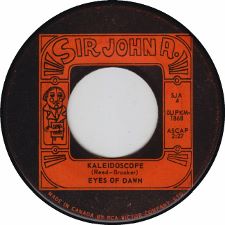 The Eyes of Dawn
Little by Little / Kaleidoscope - 7"
Sir John A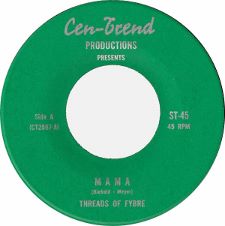 Threads of Fybre
Mama / Believe Me - 7"
Cen-Trend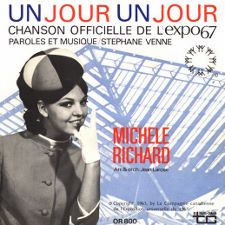 Michele Richard
Un jour, un jour / Hey Friend, Say Friend - 7"
Trans-Canada