Les Items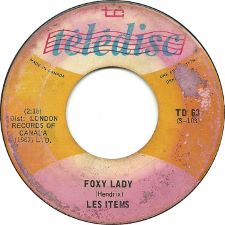 Foxy Lady / J'aimerais tant te revoir - 7"
Teledisc - 1968


Michael Panontin

Throughout the 1960s in Quebec, Denis Pantis was the Man...well, sort of.

Pantis was actually one of three erstwhile pop idols from the early sixties who had turned their attentions away from the microphone and more towards producing young francophone talent and pressing up their songs on one of the myriad labels they controlled. Tony Roman, whose version of 'Doo Wah Diddy' charted in 1964, ran the Canusa, Revolution and A1 labels, while former Les Baronets Jean Beaulne headed up the Premiere, Miracle and Profil imprints.

Pantis was almost in a league by himself. An advert placed in the January 29, 1977 issue of Billboard by his own Les Industries Denis Pantis Inc boasted that at that time he had chalked up an astounding 73 top-ten hits in the Quebec market and at one point even enjoyed fourteen of the top twenty records on the province's charts. Amongst the many labels run by this Quebecois Svengali were Franco, Jeaunesse Franco, DSP, Spectrum, Blue Jean and of course Teledisc, all homes to countless collectible garage, pop and ye-ye singles these days.

One record that likely did not pad Pantis' bank account was Les Items' 'Foxy Lady'. The hopelessly unknown quartet from Trois-Rivieres (for this recording, lead guitarist Roger Hubert, rhythm guitarist Francois Biron, singer/bassist Robert Dussault and drummer Patrick Nameth) issued their rendition of the Hendrix classic in the spring of 1968. Les gars give us a suitably lysergic treatment of the song, with searing guitars, bouncing bass lines and plenty of that sexed-up bravado that graced the original. Theirs wasn't the first French-language rendition of a Hendrix tune - Johnny Halliday had had a sizeable hit the previous year with his version of 'Hey Joe' - but it certainly must have been the most interesting. Even better, copies of 'Foxy Lady' come surprisingly cheap, with near-mint ones still selling for under a hundred bucks.
Suggestions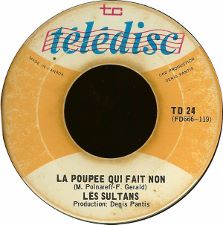 Les Sultans
La poupee qui fait non / Il n'y a rien au monde que... - 7"
Teledisc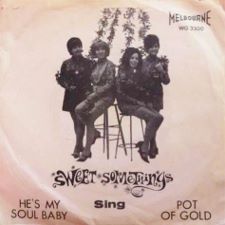 Sweet Somethings
He's My Soul Baby / Pot of Gold - 7"
Melbourne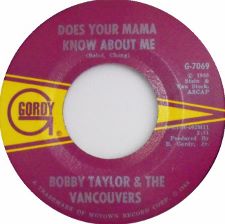 Bobby Taylor and the Vancouvers
Does Your Mama Know About Me / Fading Away - 7"
Gordy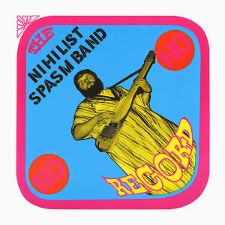 The Nihilist Spasm Band
No Record
Allied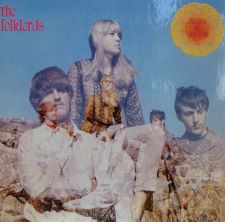 The Folklords
Release the Sunshine
Allied