The Fringe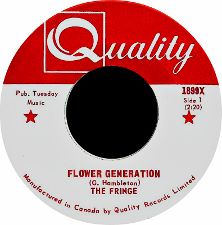 Flower Generation / Token for My Mind - 7"
Quality - 1968


Michael Panontin

The Fringe formed in 1967 and are mostly remembered, if at all, for having as a founding member the late Chuck Cadman, a thrice-elected Member of Parliament who died of cancer in 2005. They also had the good fortune to have a wheeler-dealer manager in Bill Riley. Riley, who would also take heavy rockers the Churls under his entrepreneurial wing, managed to score the still-unknown Toronto band recording time at Art Snider's newly opened Sound Canada studio.

The four - guitarist Cadman along with Doug Daniel, John Murkin and Chris Thomas - teamed up with producer Greg Hambleton and laid down eleven tracks, which the ever-astute Riley delivered to the suits over at Quality Records. And in one of those quirky business moves that leaves record collectors salivating for decades, Quality decided to take five of those tunes, including these two tracks, and press them up on a white label EP dubbed The Fringe - Canada's Next Number One Recording Group. That disc, which was allegedly issued in a measly run of just 100 copies and stamped on used vinyl to keep costs down, now ranks as one of this country's rarest records, exchanging hands these days for an almost unfathomable four thousand smackers.

The Fringe's first legitimate release was the catchy'Flower Children', a song that flits between trippy stoner folk and more upbeat sunshine pop and which rightfully took up the #78 slot on the RPM charts in the summer of 1968. Murkin and Cadman pushed those same themes into more electric territory with their equally fine 'Token for My Mind' on the record's flip side. Quality was obviously happy enough with the results to issue a second seven-inch, the even more lysergic 'Plastic People', which unfortunately failed to chart and in hindsight was probably the death knell for our local heroes.
Suggestions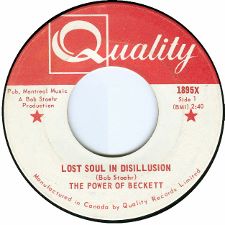 The Power of Beckett
Lost Soul in Disillusion / Back to Me - 7"
Quality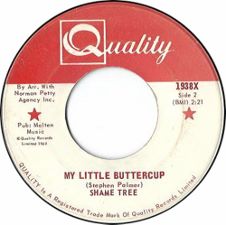 Shame Tree
Junior Saw It Happen b/w My Little Buttercup - 7"
Quality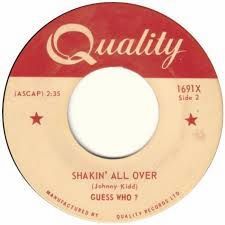 The Guess Who
Till We Kissed / Shakin' All Over - 7"
Quality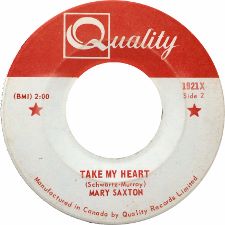 Mary Saxton
Sad Eyes / Take My Heart - 7"
Quality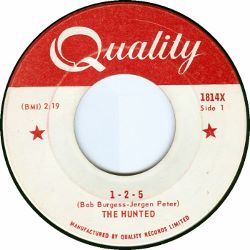 The Haunted
1-2-5 / Eight O'Clock in the Morning - 7"
Quality