Les Lutins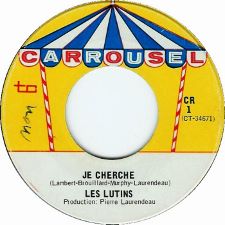 Je cherche / Elle n'a rien compris - 7"
Carrousel - 1967


Michael Panontin

Back in the early 1960s, Saint-Hyacinthe was sort of Quebec's version of Liverpool. The charming city of 50,000 just east of Montreal punched way above its weight, giving birth to a number of cool francophone bands like Les Corvets, Les Aristocrats, Les Sultans and Les Hou-lops. Les Lutins formed there sometime around 1963 while they were barely into their teens, and within a year or so the five-piece of Alain Blanchard on bass, singer Simon Brouillard, guitarists Serge Lambert and Richard Guillemette, and Normand Brouillard on the drum kit found themselves on the bill at the dance halls around town. After beating out thirty-five other bands to win a battle of the bands contest over in Valleyfield in the summer of 1965, the still very wet-behind-the-ears lads got the chance to enter the studio. The result, the rather formulaic ye-ye/merseybeat 'Petite fille' and the more aptly titled 'Trop jeune pour aimer', did little to set the lads apart on the increasingly crowded Quebec pop scene.

What Les Lutins really needed was a little time to grow up, both literally and musically. And so the boys did just that, re-emerging in 1967 as a taut act with their own distinct brand of snarling garage rock. With Alain Blanchard's older sister Nicole taking over as manager, and with the rather ballsy plan to release a single every three months, Les Lutins seemed ready for the bigger things to come. Their next single, and the first for Roger Valley's newly formed Carrousel label, was a stormer of a track that took much of the belle province by surprise. 'Je Cherche', released just in time for Expo '67 in Montreal, took the best of anglo rock and roll - corrosive fuzz guitars, powerful drums and a teenaged scowl - and topped it off with exasperated cries of "Je vous le dis a vous mes amis / Je cherche, je cherche, mais je ne trouve pas".

Other great singles followed, like the follow-up 'Laissez-vous vivre', and then 'Loin de moi' shortly after that, all collected on the first of the band's two LPs, the self-titled Les Lutins, released in November of that year. And though Les Lutins were through by 1969, and mostly forgotten in the prog-rock 1970s, their embers were stoked once again when Montreal's favourite garagesters the Gruesomes covered 'Je Cherche' - in French and English no less - during their brief reign in the late eighties.
Suggestions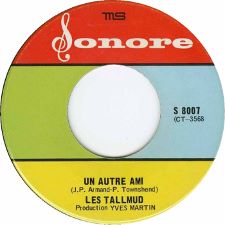 Les Talmud
Avoir raison / Un autre ami - 7"
Sonore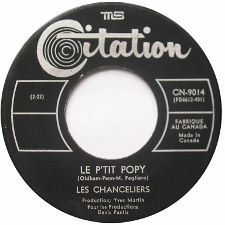 Les Chanceliers
Le p'tit popy / La generation d'aujourd'hui - 7"
Citation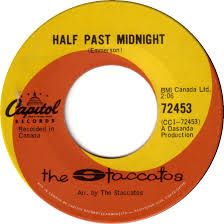 The Staccatos
Half Past Midnight / Weatherman - 7"
Capitol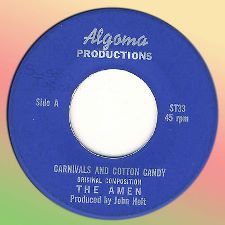 The Amen
Carnivals and Cotton Candy / Peter Zeus - 7"
Algoma