The Gruesomes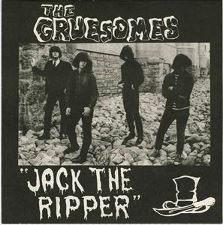 Jack the Ripper EP - 7"
Primitive - 1985


Michael Panontin

The Gruesomes were just kids when they started dishing out their freaked-out garage/psych stew. The Montreal teens were the height of cheeky irreverence, with a name culled from an old Flintstones episode and a look that was all black turtlenecks, Beatle boots and mop-top coifs. But back in the mid-eighties, there was a level of gravity in all those sixties revivalists, and these lads it seems rubbed a few the wrong way. Frontman Bobby Beaton told Exclaim magazine, "Bands like the Fuzztones or the Chesterfield Kings were very serious bands, they took what they did very seriously. We frustrated a lot of people, because a lot of serious musicians just couldn't hack it that these talentless, goofball kids who took nothing seriously, especially themselves, would achieve such a level of success."

Of course, when the band started out in 1985, with guitarist/singer Beaton teaming up with Gerry Alvarez (guitar), and a rhythm section of brothers John (bass) and Eric (drums) Davis, that description bore more than a grain of truth. "None of us had any musical background whatsoever, but within six months of getting guitars for Christmas we were onstage playing shows." But one thing that the Gruesomes had going for them was an impeccable taste for obscure records. Back then, their interpretations of the Sonics' 'The Witch' or Les Lutins' 'Je cherche' were legendary. The same can be said for their very first record, a ballsy reworking of the Screaming Lord Sutch rave-up, 'Jack the Ripper', where the old Brit's version is thus spiced up with healthy dollops of punk's snarl and the Cramps' campy eccentricities. Flip it over and the budding songwriters deliver hints of the talents to come. The trippy 'Things She Does to Me' is a decent-enough stab at psychedelia, while the grittier 'No More Lies' is primo garage rock that must have caused some injuries on the dance floors back in the day.

It wouldn't take long for the boys to endear themselves to fellow Montrealers Deja Voodoo, who wasted no time in issuing the Gruesomes' three full-length LPs on their Og imprint, Tyrants of Teen Trash the following year, Gruesomania in 1987 and Hey! in 1988. MuchMusic also helped spread the gospel when they put a couple of the band's videos in heavy rotation across Canada. And so with their mission seemingly accomplished, the four called it quits in 1990...though not for good it would appear, as reunions in 1999 and 2008 coincided with a couple more fine LPs, 2000's Cave-in (Tyrant) and and 2007's Live in Hell (Ricochet).
Suggestions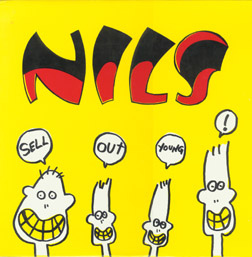 The Nils
Sell Out Young - 12" EP
Psyche Industry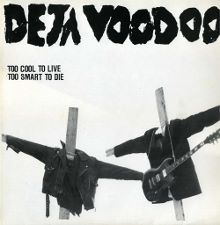 Deja Voodoo
Too Cool to Live Too Smart to Die - mini LP
Midnight International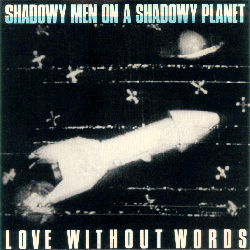 Shadowy Men on a Shadowy Planet
Love Without Words EP - 7"
Jetpac