Deja Voodoo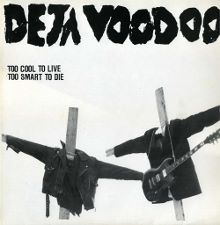 Too Cool to Live Too Smart to Die - mini LP
Midnight International - 1985


Michael Panontin

Montrealers Tony Dewald and Gerald Van Herk carried the Cramps' fascination with all things rockabilly to the extreme, pairing a four-string guitar with a minimal drum set (no cymbals or hi-hat), cranking the amps to the max, and dubbing the whole distorted mess "sludgeabilly". The pair then rifled off the indie Monsters in My Garage EP in 1982, and the 17-song cassette, Gumbo, 17 Sludgeabilly Greats!, issued the following year on their own newly formed Og label. Their 1984 breakout full-length set on vinyl, the excellent Cemetery, contained the surrealist classic and underground hit 'If Mashed Potatoes' ("If mashed potatoes were security guards / they wouldn't get much done") and quickly endeared itself to the university radio circuit.

On Too Cool to Live Too Smart to Die, the band hooked up with New York-based Midnight Music, no doubt hoping to benefit from the label's international connections and expand their already sizable European following. Hashed out in a chilly mid-January at Montreal's Big Scary studios, Too Cool to Live... veers little from the band's pared-down formula. The eight songs here - six originals plus covers of Roscoe Gordon's obscure 1956 Sun b-side 'Cheese and Crackers', and the Coasters' 'Down in Mexico' - all showcase chief songwriter Van Herk's uncanny ability to take classic rockabilly rhythms and retool them with punk overtones. Songs like 'Take out the Trash' and 'Bo Diddley's Cat' are nifty updates of rural 50s music, sporting deceptively simple rhythms that must have jammed the dance floors at the band's popular Deja Voodoo BBQs back in the day. Likewise for the sinister swamp-blues of 'Gotta Have Money', where Van Herk's busty baritone vocal reaches new lows, so to speak, as he mumbles his way through "I need some money, yeah / I need it / Gotta have it / Give me shekels / Give me pesos..." Too cool!

A cleaned-up version of Too Cool to Live Too Smart to Die was reissued in 1988 on Og, this time with an extra track, but by then Van Herk and Dewald were beginning to wind down, ultimately closing up shop for good in 1990.
Suggestions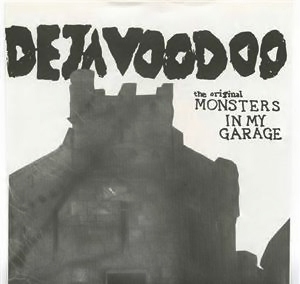 Deja Voodoo
Monsters in My Garage + 3 EP - 7"
(independent)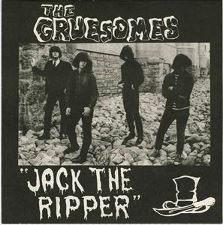 The Gruesomes
Jack the Ripper EP - 7"
Primitive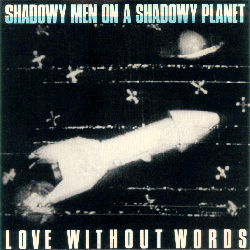 Shadowy Men on a Shadowy Planet
Love Without Words EP - 7"
Jetpac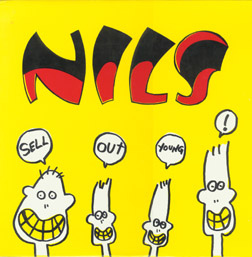 The Nils
Sell Out Young - 12" EP
Psyche Industry