Porcelain Forehead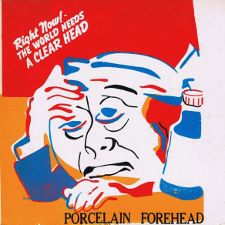 Right Now the World Needs a Clear Head EP - 7"
Corpus Callosum - 1983


Michael Panontin

Windsor (Ontario) record geek Mike Hillis got his first whiff of punk's fumes back in 1975 when he purchased Patti Smith's Horses. "I bought it on the recommendation of (classmate and future Creem magazine editor) Mark Norton, who was dressed like Patti Smith." Hillis would eventually kickstart that city's quiescent punk scene on April 28th, 1978 at Vincent Massey Secondary School with a performance by his first band the Dry Heaves (though not to be confused with Windsor's other, more famous, Dry Heaves, who released their swell Shoot Yourself EP several years later).

A move to Ottawa, a pair of party-sodden years at university there, and short stints fronting Tainted Meat and then the Angry Raisins would further solidify Hillis' punk cred. In August 1982 the inveterate singer hooked up with teenaged members of Forbidden Fruit in the whitebread suburb of Nepean, forming Porcelain Forehead shortly thereafter. As Hillis recalls, "Their ex-singer Brian Bunt suggested I go and sing out in front of the band he'd just quit (out in the 'burbs eh) and, well, those guys were really young... I had no faith it'd be somethin' I'd wanna do but we jammed for a couple hours and came up with 3 or 4 songs. It was a blast ya know, so I kept goin' out there until we had enough for a show."

With a pair of tracks already lent to the 1983 Blender Mix compilation, Porcelain Forehead entered Ambience Recorders studio to record Right Now the World Needs a Clear Head. Cut mostly live in the studio (save for Hillis' primal screams on the fiery 'Human Torch' - "The original was not raw enough!"), Right Now... is a true labour of D.I.Y. love, from the individually silk-screened cardboard covers to the incendiary blast of its sonic contents. Hillis says, "My Aunt Marjorie in Michigan did the band the favour of payin' for the mailing costs to send 200 copies to Rough Trade Records' California office but Rough Trade went bust right around then, and so there must be a 200 count box of that EP that ended up in a grey space somewhere, the band knows not where..."

Much of Right Now... straddles the two worlds of straight-up seventies punk and the rapid-fire rhythms of hardcore, with songs like the biting 'Unfinished Porch' ("Big business knows its friends / You'd better do what they say") and 'Human Torch' veering off into Minutemen territory with Bruce Stevenson's staccato bass riffs. And then there is the fiery 'That Number Again Folks' ("Porcelain Forehead's tuneful punk crowd-pleaser"). To Hillis, the anti-Jerry Falwell screed was in fact doubly significant, "...as in, 'call this number and gimme some money, it's goin' to gawd!' and also cheeky, as in, 'you've heard this riff kids, somewhere, I think you must've, well here it is again gang!'... self-conscious to the hilt."

The band spent their share of nights on strangers' floors. Touring would take them across Quebec and Ontario, and into the northern U.S., where they opened for the likes of the Butthole Surfers (Detroit), the Minutemen (Hull, Quebec) and M.D.C. (Ottawa). And true to form, Porcelain Forehead went out with a bang, playing their final show with the Dead Kennedys in front of 1200 people at the Palladium in Montreal on April 23rd, 1985 ("almost exactly seven years to the day of my first band playin' our high school. Long live the Dry Heaves!").
Porcelain Forehead
Suggestions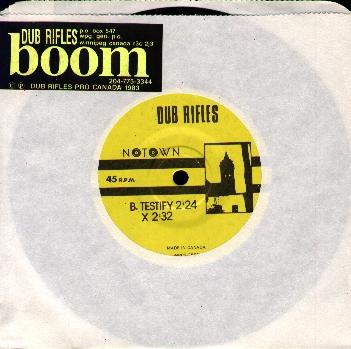 The Dub Rifles
The Boom EP - 7"
Notown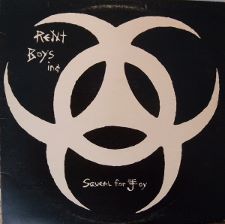 Rent Boys Inc.
Squeal for Joy - 12" EP
(independent)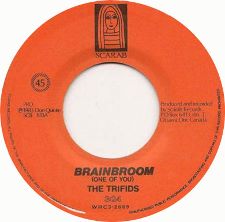 The Trifids
Brainbroom / Invincible - 7"
Scarab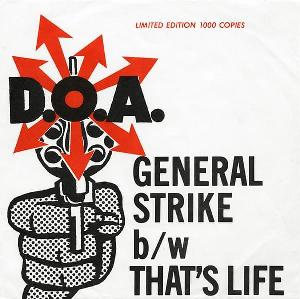 D.O.A.
General Strike / That's Life - 7"
Sudden Death