Kensington Market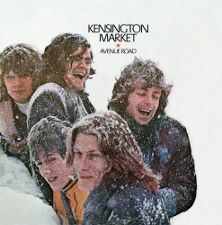 Avenue Road
Warner Brothers - 1968


Michael Panontin

A late night jam with the Lovin' Spoonful's Zal Yanofsky in 1967 would prove to be the big break for Toronto's Kensington Market.

As Nicholas Jennings tells it in Before the Gold Rush, his excellent chronicle of that city's Yorkville scene, "Knocked out by the band's sophisticated sound, Yanofsky went down to New York where he raved about them to Felix Pappalardi, already one of the hottest new U.S. record producers with the Youngbloods and Cream to his credit. Pappalardi flew up to Toronto in October to check them out. Before he left the band's rehearsal space that night, Pappalardi had signed the band to a two-record deal", which of course led to the recording of this eclectic album for Warner Brothers.

Kensington Market already had a couple of seven-inchers on the Stone label under their belts. And with Luke and the Apostles' sudden implosion in the late summer of 1967, they wisely added the popular singer Luke Gibson to their line-up. But had it not been for that fortuitous hook-up in New York, the band might have ended up a mere footnote in the already crowded Yorkville annals. As it happened, though, with Warner's money and Pappalardi's acumen, their debut LP Avenue Road was released early the following year to cheers on the home front and what could be politely described as bewildered indifference south of the border. It seems that everything from the bizarre title (which was really just a street running through Toronto's Yorkville neighbourhood) to the wintry Canadian imagery on the cover left their American label execs flummoxed.

Still, the winds of opportunity continued to waft the group's way throughout much of 1968 with a week-long residence at New York's renowned Bitter End early on and a coveted support slot for the Jefferson Airplane out at Hamilton (Ontario)'s McMaster University later that summer. The new line-up would lead things off with a rerecorded and reworked 'I Would Be the One', which would scale its way up to #18 on Toronto's influential CHUM-AM chart in July.

This slower, buffed-up version opens Avenue Road and it has Pappalardi's paws all over it, the rougher charm of the original Stone single giving way to some crisp horns and blithe piano rhythms. Actually, much of Keith McKie's tepid songwriting is augmented - and sometimes rescued - by Pappalardi's spacious production, like the ballad 'Aunt Violet's Knee', a potential snoozer fleshed out somewhat with some medieval brass and sugary strings, or the obliquely psychedelic horn that tints the lovely 'Looking Glass'. And though much of Avenue Road is fairly standard stuff, it is a revealing artifact of what were no doubt heady days in Canadian music history.

Kensington Market followed up in 1969 with Aardvark after taking on John Mills-Cockell and his novel cache of moog synthesizers, but neither this equally successful disc nor a second U.S. tour could prevent them from splintering the same year. Pacemaker reissued both albums separately in their original form in 2008.
Suggestions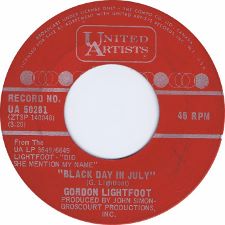 Gordon Lightfoot
Black Day in July / Pussywillows, Cat-Tails - 7"
United Artists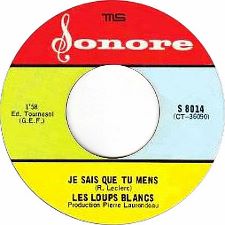 Les Loups Blancs
Je sais que tu mens b/w Sylvianne - 7"
Sonore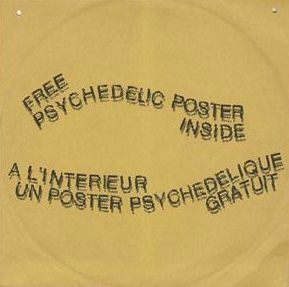 Intersystems
Free Psychedelic Poster Inside
(independent)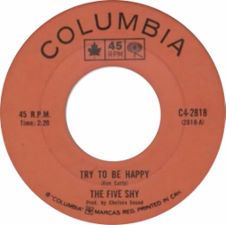 The Five Shy
Try to Be Happy / Saints and Angels - 7"
Columbia