The Poles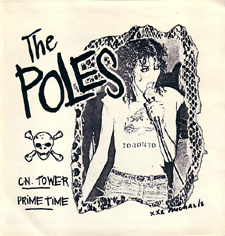 CN Tower / Prime Time - 7"
Nimbus 9 - 1977


Michael Panontin

Toronto artist Michaele Jordana Berman's first fifteen minutes of fame came in 1976 after her solo exhibition of hyper-realist paintings depicting the slaughter of whales (Oceans of Blood) struck a chord around the city. From there, her name shorn to the sleeker Michaele Jordana, more envelopes were pushed in the form of multi-media performances with ex-Syrinx composer Doug Pringle. Pringle's moog-and-tape-loop score to the theatre piece The Rites of Nuliajuk marked the shy Jordana's first foray in front of the microphone, fronting a five-piece band.

The five crashed Toronto's nascent new wave scene as the Poles, releasing the locally successful punk paean to Toronto's famous phallus, 'CN Tower', a menacing guitar track girding Jordana's quivering vocal ("Whirling, twirling, I'm falling down, CN tower, CN tower"). The flip dishes out more of the same, though with less interesting results. Local buzz and a CASBY-award-winning solo LP by Jordana (Romance at the Roxy) would draw the Poles into the powerful New York vortex, landing them gigs at CBGB and Max's Kansas City.

Soon after, motherhood beckoned for Jordana, effectively ending her music career, though it would appear not her creative spark, as she would re-emerge with fingers in a variety of projects from TV documentaries to multi-media education. By rights, 'CN Tower' should have become iconic by now, at least in Canada's largest city, but alas has been sentenced to languish in obscurity.
Suggestions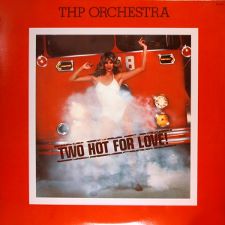 T.H.P. Orchestra
Too Hot for Love
RCA Victor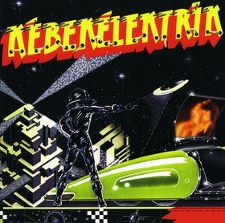 Kebekelektrik
Kebekelektrik
Les Disques Direction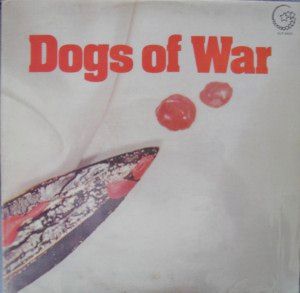 Dogs of War
Dogs of War
Generation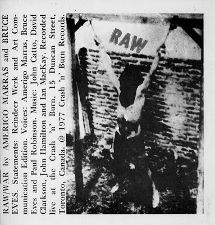 Amerigo Maras and Bruce Eves
Raw / War - 7"
Crash 'n' Burn