The Hi-Fives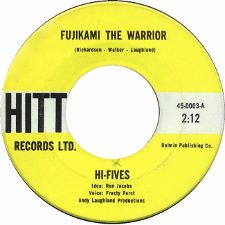 Fujikami the Warrior / Mo-Shun - 7"
Hitt - 1961


Michael Panontin

Some fifteen years before John Belushi and his Samurai Futaba character terrorized the set of Saturday Night Live, the Hi-Fives were at it on the local Vancouver airwaves with their totally over-the-top 'Fujikami the Warrior'.

Things actually go back a couple of years to 1959, when radio station CFUN launched a challenge to powerhouse station CKWX, moving to new digs on West 4th Avenue in Kitsilano, upping its outage to a hefty 10,000 watts and replacing its staid old pedigree with the newly fashionable top-40 format. Of course, that meant plenty of fast-talking DJs and hours of non-stop rock and roll. Enter Bryan Forst, who would begin what the BC Radio History site called "the first day of the rest of his life" when he joined the station as the cool-sounding "Frosty" Forst.

Forst would eventually team up with another lower mainland concern, the Hi-Fives, a quintet known for churning out faithful, if a tad unspectacular, reinterpretations of mainstream rhythm 'n' blues songs. The Hi-Fives - singer Harry Walker, saxophonist Freddy Carotenuto, guitarist Tab Shori, bassist Bill Papuc and drummer Larry Krashin - had already managed to notch a minor hit south of the border when their 'Mean Old Woman' reached the #7 position in the Los Angeles area.

But that track pales next to the wacked-out fun of 'Fujikami the Warrior'. Part early rocker, part novelty number, the record takes off on a demented trip of nipponized mayhem right from the get-go, when Forst guest-shrieks, "Eeee I am Fujikami the warrior!!!" Though Walker received partial songwriting credit for the song, when asked to explain it to TV host Michael Willmore in 2007, he confessed, "I don't know what it's about! We went to the studio. We wanted to make a record and we had this tune and the guy there, I can't remember his name [producer Andy Laughland], he recorded us."

Fellow CFUN DJ Dave McCormick shed a bit more light in a post on the Radio West blog: "Our "format" was very loose, in fact just about non-existent! If it worked, we kept doing it!" he noted. "[For example] 'Fujikami The Warrior', an idea we stole from [Honolulu station] KPOI. It was Frosty's project. He "wrote" the chants and did the Fuji voice, [Brian] Lord, Cameron Bell, myself and others did the background responses, and a local band came in the station and did the instrumental background. The late Andy Laughland did the recording-production - all done at our 1900 W. 4th Avenue studios."

Interestingly, 'Fujikami...' managed to scale charts as far away as Honolulu, which had a sizeable Japanese-American population at the time. "It was quite popular apparently in Hawaii. It was number one for a little bit," Walker recalled. "I think we got paid twenty dollars or something," he half-jokingly added. "It wasn't much."

'Fujikami...' may seem to have come out of deep left field. But when placed in the context of the Pacific Northwest scene, which was happening just a few hundred kilometres to the south - the Wailers, for instance, issued a single called 'Shanghied' in 1959 - it does start to make a bit more sense. How many of those tunes filtered up to Vancouver is anyone's guess. But this much is certain: the Hi-Fives' 'Fujikami the Warrior' was the likely soundtrack to more than a few beer-soaked frat parties...on either side of the border.
Suggestions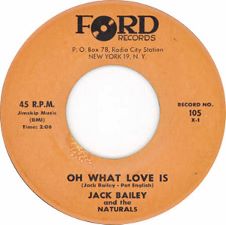 Jack Bailey and the Naturals
Oh What Love Is / Beneath the Moonlight - 7"
Ford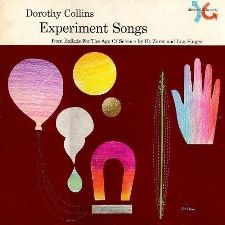 Dorothy Collins
Experiment Songs
Motivation