Shadowy Men on a Shadowy Planet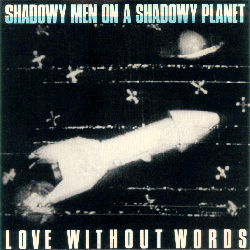 Love Without Words EP - 7"
Jetpac - 1985


Michael Panontin

Saturday Night Live's Lorne Michaels once derisively referred to the music of Shadowy Men on a Shadowy Planet as "cheap strip music". And though they gave the world some of the finest surf instrumentals since the 1960s, California-based writer Kent Crowley managed to log some 200 pages in his otherwise informative book Surf Beat with nary a mention of the band. Shadowy Men themselves actually went so far as to record a song titled 'We're Not a Fucking Surf Band'.

The group got their start in Toronto when bassist Reid Diamond, guitarist Brian Connelly and drummer Don Pyle, all graduates of the pop-punk band Crash Kills Five, reunited in 1984. The trio were perennial favourites on the local alt-rock circuit, gigging at places like the Cabana Room on Spadina, where they held court on numerous occasions. And after a four-track cassette that was given away mostly to friends and family, the guys entered Grant Avenue Studio in the summer of 1985 to record three tracks for a seven-inch EP, little knowing that buried on the backside would be the first version of the song that would break it wide open for them.

'Having an Average Weekend' was for all intents and purposes a surf instrumental. It may not have been the best in the band's repertoire - hell, their catalogue was far too deep to even attempt to name a favourite, the excellent 'Bennett Cerf' on the b-side of this EP just one obvious case in point - but it certainly became the most famous. As the story goes, after the Toronto comedy troupe known as Kids in the Hall had reunited in 1987, SNL producer Michaels caught sight of their act and offered them their own TV series, which debuted on HBO and CBC in 1988. The Kids wanted Shadowy Men for their series; Michaels, not so much.

Pyle would later tell Maclean's magazine, "The Kids themselves also played hardball for us. Lorne Michaels didn't want us. He said we sounded like "cheap porno music" - what a compliment coming from him!" What's more, Shadowy Men, who at that point were still an obscure indie band with nothing more than a string of limited-edition seven-inch singles to their credit, insisted on keeping the rights to their music and stuck to their guns in the face of the TV mogul's monumental muscle. "The first thing we did with the Kids for TV was a one-hour special, which used snippets of existing songs, so we were very adamant that we retain all of those rights. One of the producers approached us and asked if this was just about money. We said that for them, yes, it was, but for us it was about ownership. So he said, 'Okay, you can keep it.'"

And true to the band's obsession with indieness (which predated acts like Stereolab by nearly a decade), the Love Without Words EP was issued with at least six different cover variations. By 1988, Shadowy Men had released the first of their three long-players, the quasi-compilation Savvy Show Stoppers on the Glass label. The three would continue unleashing those groovy instrumentals well into the digital age, and would also lend the unforgettable 'Having an Average Weekend' to the Kids in the Hall's full-length feature film, Brain Candy, in 1996.

Sadly, Diamond's death from cancer seemed to put paid to any future Shadowy Men recordings...until 2012 that is, when Alberta's Mammoth Cave decided to give Savvy Show Stoppers the full vinyl reissue treatment. Pyle and Connelly even came out of retirement for this, doing a series of live performances with the Sadies' Dallas Good dutifully subbing for the late Diamond on bass.
Shadowy Men on a Shadowy Planet
Suggestions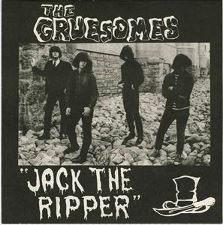 The Gruesomes
Jack the Ripper EP - 7"
Primitive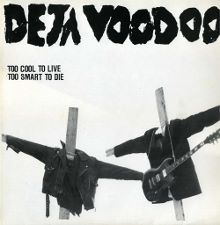 Deja Voodoo
Too Cool to Live Too Smart to Die - mini LP
Midnight International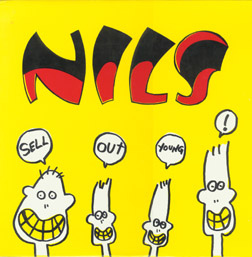 The Nils
Sell Out Young - 12" EP
Psyche Industry