Jackie Shane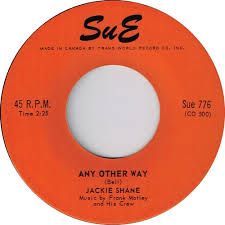 Any Other Way / Sticks and Stones - 7"
Sue - 1963


Michael Panontin

In the staid old Toronto of the 1960s, Jackie Shane would have stood out like a sore thumb. The flamboyant r'n'b singer was not only openly gay in an era when most were hiding in their closets, but a notorious transvestite who took the stage in make-up, sequins and a puffed-up bouffant hairdo.

Shane grew up in Nashville surrounded by music from an early age, hanging out at clubs down on Jefferson Street and at one point even touring with Little Richard. He made his way up to hard-partying, sexually liberal Montreal in 1960, taking up residence at the Esquire Show Bar on rue Stanley. His former bass player, Larry Ellis, told CBC radio, "The Esquire had non-stop entertainment. The other band would do a half hour, we would do a half hour, back and forth until 3 o'clock in the morning." It was there that Shane hooked up with the talented trumpeter Frank Motley, who had recently made the switch from jazz to r'n'b, with his band Frank Motley and his Motley Crew.

Shane, Motley and the rest of the crew shifted down the old Highway 2 to Toronto and its hopping, r'n'b-obsessed Yonge Street. Somehow, in a town where bars rolled up their carpets before midnight, the crossing-dressing Shane found acceptance, performing at clubs like the Zanzibar, the Blue Note and the Sapphire. The inveterate showman was fearless on stage, managing to enthrall anyone who saw him. Ellis recalls how "he had a fan club everywhere he went. When he got finished, they were all in love with Jackie Shane."

Not only could Shane break down stereotypes while on stage, he also had a nearly uncanny ability to make a song his own, and that is nowhere more evident than on his biggest hit, a cover of a William Bell's 'Any Other Way' that managed to rise to the number 2 slot on Toronto's powerhouse CHUM-AM. Where Bell's Stax version glided along a fairly upbeat mix of guitar, bass and drums, Shane drew it out to a slower, more languorous pace, with lazy horns and a sad, almost world-weary vocal. What's more, the crafty singer wrested the meaning of the song from Bell without changing a thing as he croons, "Tell her that I'm happy / Tell her that I'm gay / Tell her I wouldn't have it / any other way".

Shane issued a handful of singles in the ensuing years, as well as a full-length set, Jackie Shane Live, before disappearing from Canada sometime in the late sixties. And just like that other "lost" singer Sixto Rodriguez, he also left behind a litany of rumours ranging from murder to suicide. But thanks to Elaine Banks' hard-digging journalism for CBC's Inside the Music program, Shane was located, alive and well and living back in Tennessee.
Suggestions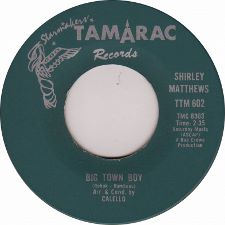 Shirley Matthews
Big Town Boy / (You Can) Count On That - 7"
Tamarac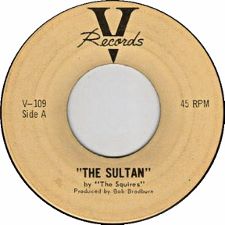 The Squires
The Sultan / Aurora - 7"
V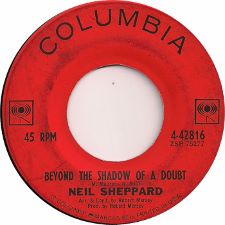 Neil Sheppard
In My Imagination / Beyond the Shadow of a Doubt - 7"
Columbia