The Chantones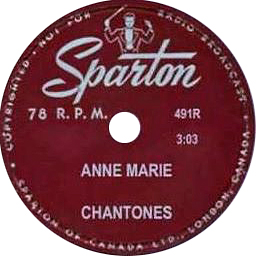 Storm in My Heart / Anne Marie - 78 rpm
Sparton - 1957


Michael Panontin

Few people buy doo wop reissues these days and thus few people remember that the Chantones were Jack Scott's vocal backing group. Fewer still are aware that this Windsor-based quartet had a chart-topping hit of their own way back in 1957, a year before that fortuitous hook-up with Scott. And, to further this example, there can't be many still alive who know that the group's bass vocalist honed his vocal chops while attending a school for the blind. "I had some vision (then) but not enough to attend normal high school. So I went to the Ontario School for the Blind in Brantford, Ontario for my high school education," the now totally-blind Roy Lesperance told Owen Jones in his book Music from Windsor. "They had a great musical program there, where I did choral singing, madrigal singing (and) voice lessons."

After graduation, Lesperance teamed up with lead tenor Jack Grenier, tenor Larry Desjarlais and baritone Jim Nantais, and in what must have been a nod to their shared French-Canadian heritage dubbed themselves the Chantones. The four - still just kids in their late teens - scored a slot at the city's popular Metropole Supper Club on Walker Road. "We had all finished high school and everyone was working part-time. (Their manager Mike) Drakich offered us a two-week job, so we said, 'Okay, we'll do it'."

The slick white quartet - which AllMusic semi-derisively dubbed the real-life version of the Four Neat Guys from SCTV - gigged in clubs on both sides of the border before etching their first songs to wax. The languid, if somewhat polished, 'Anne Marie' was a huge hit up here in Canada, reaching #1 in 1957. From there it was just a short hop, both literally and figuratively, to the group's great gig in the sky. "(CKLW-TV) had a program called the Bud Davies Dance Party," Lesperance explained. "Bud did record hops and we did record hops for him and helped him out, so he called us up one day and said, 'Boys, there's a fellow over in Detroit, his name is Jack Scott, and he's looking for a vocal group to back him up, kind of like Elvis Presley and the Jordanaires."

The rest of course is history, as Lesperance, Grenier, Desjarlais and Nantais charted some eighteen records with the rockabilly star over the next few years, from 'My True Love' to 'What in the World's Come Over You', and including perhaps Scott's best-surviving work, the subtle swagger of 1959's 'The Way I Walk',.
Suggestions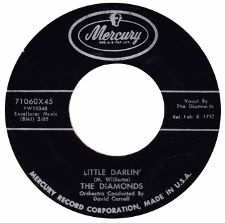 The Diamonds
Little Darlin' / Faithful and True - 7"
Mercury