Jack Scott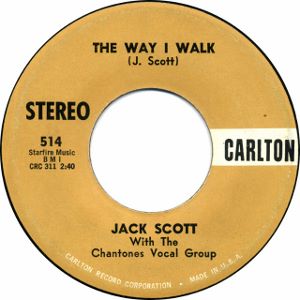 The Way I Walk / Midgie - 7"
Carlton - 1959


Michael Panontin

Dave Marsh called Jack Scott "undeniably the greatest Canadian rock and roll singer of all time". Though considered by many to be Detroit's first white rock and roller, Scott actually grew up on the Canadian side of things, in Windsor, Ontario. Born one Giovanni Dominico Scafone Jr. to a large Italian family, Scott moved to the working-class Detroit suburb of Hazel Park when he was just ten years old. It was there - in a place rife with car factories and auto workers - that he developed a love for the country and western and hillbilly sounds so common at the time.

As a teenager, Scott was invited by deejay Jack Ihrie to perform on his radio show at WEXL in Ferndale, Michigan. He later formed the Southern Drifters, eventually signing to ABC-Paramount as a solo artist when he was barely 21 and releasing a couple of decent singles there in 1957. The following year Scott had some time booked at United Sound to put to celluloid a couple of his newer tunes, 'Greaseball' (which was later renamed 'Leroy') and 'My True Love'. Though the songs were solid, Scott was looking for some extra vocal backing - Elvis' Jordonaires were no doubt the inspiration - and a phone call south of the border hooked him up with a newly formed Windsor quartet called the Chantones. The marriage was magical, as the five would release a string of hits, mostly on the Carlton and Top rank labels, starting with the love song 'My True Love', which pushed to #3 nationally, all the way to the crooner 'What in the World's Come Over You?'.

But while those songs may get the occasional spin on oldies AM stations, collectors today salivate over Scott's rockabilly tracks, the best of which is definitely the ballsy 'The Way I Walk'. As the story goes, Scott had cut the song just before his 1959 stint in the U.S. Armed Forces. But with just a couple of verses on tape, there was still lots of time left. To fill that gap, he had the Chantones sing a chorus of "Oo-wee, oo-wee, oo-wee, oo-wee, doo-wah". The result was Scott's finest moment, a near-perfect mixing of country twang, doo wop and, with George Kazakas' blistering sax solo, early rhythm and blues.

Scott's almost overnight success saw him booked eight times the following year on American Bandstand as well as on Dick Clark's Caravan of Stars bus tour. He would go on to release country-tinged singles well into the seventies, but for the most part found himself crowded out of the charts by girl groups, Motown and, later, the mop-topped British Invasion bands. And of course 'The Way I Walk' languished in the dusty back corners of used record shops for a good twenty years until husband-and-wife vinyl junkies Lux Interior and Poison Ivy Rorschach (a.k.a. the Cramps) included it on their first seven-inch in 1978, punking up its pleasures for a new generation of fans.
Suggestions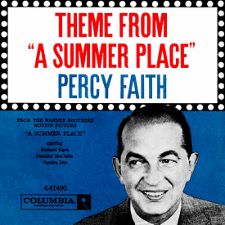 Percy Faith and His Orchestra
Theme from A Summer Place / Go-Go-Po-Go - 7"
Columbia